One issue in residential cleaning that brings out the boxing gloves in business discussions is pricing jobs and providing quotes.
It used to be standard procedure to perform in-home estimates, but today many business owners say that it takes up too much of their time and it's not cost effective. As with anything in life, you can pay on the front end or you can pay on the back end. 
There are exceptions, so let's go through what they are and the benefits of doing in-home estimates.
Type of House Cleaning Services
Do This First
The first thing you need to know is what type of house cleaning service the lead is interested in. If they're looking for a one-time clean, you can usually quote these over the phone with a series of questions. These initial cleans are quoted for the estimated time you have assessed the job to take. Make sure they understand they will pay for the time used and since this is an estimate, it may not cover everything they need done. Therefore, if you exhaust all the estimated hours during the appointment, you will need to know how they want to handle the rest of the house.
You should have a set list of questions to use when quoting over the phone. These should provide you with the information you need to provide a "near" accurate quote. I've included a comprehensive list of questions in my Business-in-a-Box – cleaning business starter kit so you don't have to figure it out on your own.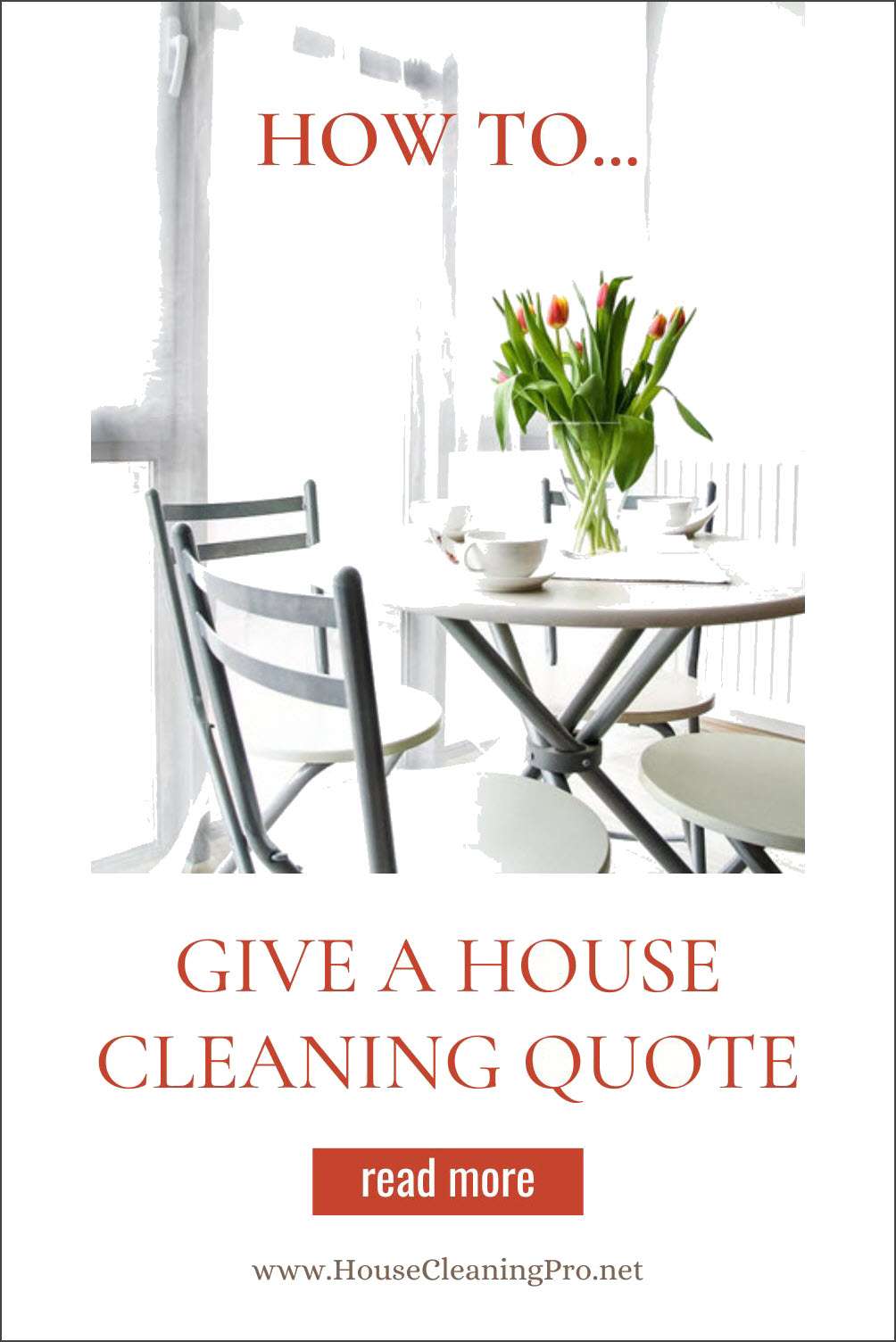 New Recurring Customers
These are leads who are interested in ongoing service one or more times a month. Since these are going to be long-term clients, it's important to build rapport and set expectations. Get this wrong and they won't be on your calendar for long.
I used the same interview questions for these as for those only needing a one-time cleaning. Sometimes I could determine that a phone quote was all that was needed, but others would require an inspection. This was dependent on the answers to the interview questions.
Here's why I always preferred to inspect the home before providing the quote:
Building Rapport Converts Leads
There is nothing that can replace the face-to-face interview with a new customer. No matter how good you are on the phone; no matter how good your appointment scheduler is on your website; no matter how personal your eMail is, you will convert more leads meeting them in person. This allows you to interact with them in their home to ask pertinent questions that you would not have the chance to ask otherwise.
This time you have taken to get to know the customer leads to higher conversions to book more jobs.
More Accurate Quotes
Even though residential cleaning is based on square footage and your hourly rate, there are other variables that come into play. By inspecting the home, you have the advantage to gauge the level of dirt and grime, the contents of the home, impact of pets in the home, where the time-consuming areas to clean are located, the amount of soap scum and water damage in the bathrooms, you can actually feel for greasy dirt in the kitchen, and inspect under and behind things to determine how long since the last quality cleaning was performed.
Provide fast, accurate quotes with a house cleaning estimate calculator.
Even if you ask your lead on the phone or on your appointment scheduler on your website the level dust and grime to be cleaned, you will never – and I mean never – get an accurate answer. That's because most people get used to the dirt and can't accurately answer that question. This is why you need to do an inspection, so you can set expectations.
Set Expectations
Now that you have seen the home, you can discuss the cleaning you do and any limitations you have found, such as water damage in the bathroom, what furniture or appliances you don't move, etc. You'd be surprised, but many homeowners think we can do restoration work! We clean – we cannot restore things to their original condition if they have already been compromised.
If you have partnered with another local business who can provide the restoration work, this is the time to recommend them. Hopefully you have an agreement with them so that you get a commission for the referral. I can help you set that up and I have even included the agreements you need with joint venture agreement templates.
I've included all my interview questions and how I set expectations in this report on how to bid jobs and perform the walkthrough
blank line
Accurate Scheduling
Once you know the variables in the home, you can provide an accurate quote of how much time the job will take. This is important for the initial clean, but also for the ongoing service. You need to know how much time the house will take on each scheduled appointment.
It wasn't unusual for my 2-person team to take up to 8 hours to complete the initial deep cleaning on larger (or dirtier) homes. If you're cleaning alone, that converts to 2 days. Knowing the details of the home allows you to identify the correct time slot in your schedule to book the job.
Fewer Communication Issues
If you have not inspected the home, you are left with only what the lead has told you, which might not be accurate. For instance, many people will give you information that leads to a lower quote. Imagine what will happen when you arrive to the job and realize you've been duped. People lie – why subject yourself to that?
Less Stress for Your Cleaners
I don't know about you, but my cleaning teams were not trained in selling our services. They were trained to do the cleaning in a specific way. To make sure they knew what they were walking into, all the particulars of the job were included on their basic work order. They didn't have to worry about anything except doing the job they were trained to do. Due to the walkthrough I had performed, there was nothing left to chance for the team to encounter.
As you can see, there are many benefits to providing in-home estimates. Now if you're shaking your head thinking of the amount of gas and time you will expend doing these estimates, take the time to work out the lifetime value of the customer. Your bi-weekly $150 job could earn you $11,700 in recurring service over 3 years. And think of the referrals you can generate by providing more accurate quotes and better customer service with fewer misunderstandings!
To learn more about operating a cleaning business, check out our comprehensive guide on starting a successful house cleaning business. We cover everything you need to know to start and run a thriving cleaning service.
blank line