Start a Residential Cleaning Business For Maximum Profits When You Follow My Proven House Cleaning Success System Blueprint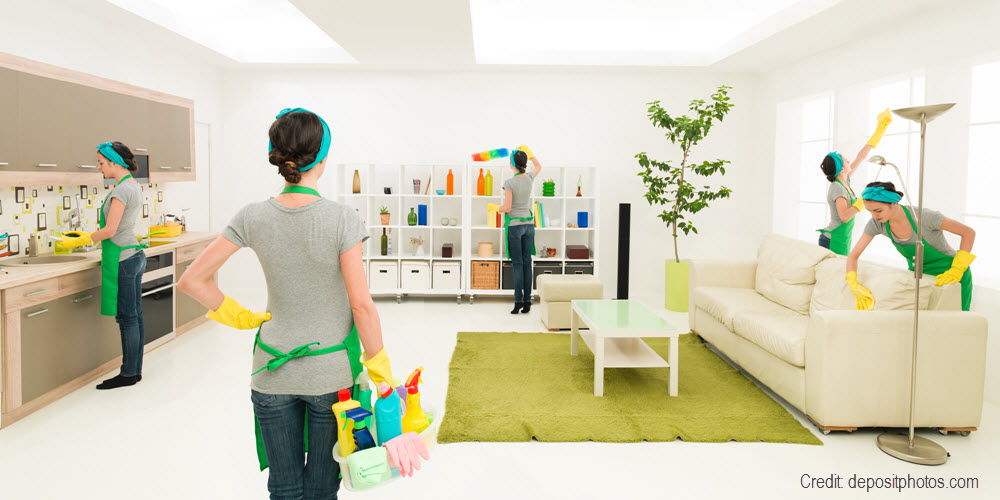 If you're visiting for the first time, let me introduce myself – I am a successful business builder who has started a house cleaning business on my own, built it up by having teams of cleaners doing the work for me and eventually sold the business for a nice profit. And that business is still doing very well today with the new owners.
In fact – they told me they specifically purchased my business because of the employee handbook, training manual and procedures I had in place.
And this is what I offer you – the ability to build a profitable business without high franchise fees that will allow you to have more time for yourself and even sell the business if that's what you want to do.
How my Business-in-a-Box is Different
I'm sure with all the free information you can find on the Internet, you're wondering what's so special with my system! After all – it just takes a few chemicals and rags to go into the residential house cleaning business.
That's true if you don't mind working for a whole lot of "bosses" because that's exactly what you will be doing. You see, if you're not running a professional house cleaning business, everyone wants to tell you what to do and how to do it. You can't make decent money that way.
And why would you want to? Don't you want to be your own boss?
If you're already an independent cleaner and you want more control of your business, then my house cleaning tips book is what you need.
But if you want it all, then you really should consider my Business-in-a-Box.
You see – I hear from people every day who started their cleaning business by piecing together information they found and are frustrated with all the issues they encounter. They wonder why they aren't making more money and that they can't seem to get out of the field to run their business.
Note: This is the perfect business for people who love to clean, organize, and help people. Cleaning is hard work; you must do the cleaning yourself or hire people to do the work for you.
If you're undecided about the cleaning industry, CLICK HERE for a free report to help you decide

My blueprint ensures you setup your business correctly right from the beginning with the right procedures. Then when you decide to hire workers to do the cleaning for you, you already have the correct business model.
Here's what's superior with my Business-in-a-Box:
What Advertising Works and What Doesn't
How to Set Your Price using my calculator

List of Chemicals You Need and Why
Equipment List and How to Use Each One
How to Target The Customers That Are Right For Your Business
How to Conduct a Successful Phone Interview

Step-by-Step Instructions to Perform the In-Home Estimate and Win the Job
The Correct Way to Arrive at the Scheduled Cleaning Job
Step-by-Step Professional Cleaning Procedures BY ROOM
How to Use the fillable Custom Business Forms on your device (or use as printables, if you prefer)

How to Recruit and Manage Cleaning Employees
How to Keep Your Employees From Stealing Your Clients
Programs to Prevent Your Employees From Leaving Your Business
How to Prevent Employee Theft
The Top Paying Clients Have Specific Preferences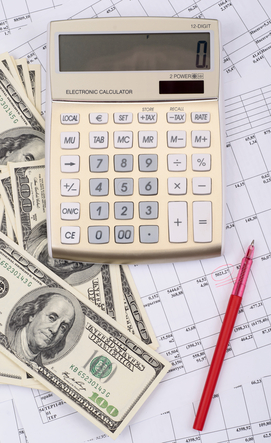 I show you where the best clients are in my house cleaning business training and how to service them properly. After all – it's not worth your time to service a client who wants to pay the least amount of money. I know!! I cleaned for them just to get started!!
And you probably will too until you are confident to go after the clients who will pay.
And you better know what you're doing when you go in to bid these top paying clients or you won't get another chance! I perfected the estimating and bidding process to land over 98% of the jobs I estimated.
Once you know my step-by-step process, you'll quickly know if your prospect is worth your time or not and save you from taking on a "problem" client. And – you'll also be able to determine what your prospect is thinking just half way through the estimating process. This is good to know in case you need to make any quick adjustments to your estimate interview.
Don't Make This Crucial Mistake
Don't get stuck with information from janitors and business professionals. If residential cleaning clients wanted a janitor, they'd hire one. And don't get me started on the books written by business professionals who have never cleaned their own house, but want to tell you their plan for a house cleaning business start up!  You'll not only find these on the Internet, but in your local book store.
Instead, Start Your House Cleaning Business the Right Way!
Start your house cleaning business with the detailed procedures and techniques you need for success, get rid of the customers who want you to do more than you bargained for, for less money and I will show you exactly how to create a successful house cleaning business.
And when you get this valuable information, you'll have happy clients who will gladly pay what you charge, working smarter, not harder in your house cleaning business… the EXACT system I used to earn over 200k in revenue the first year I implemented it!
The Question is How Much Trial and Error and Misinformation Can You Really Afford?
Look at all of the things that can go wrong . . .
Dangerous Chemical Reactions that Leave you Dazed, Confused and Sick
What to Tell Your Best Client When You Realize You Lost Their Key
How to Avoid Denting a Customer's Wall Using Common Equipment
The Wrong Hand Pad Used on Flooring that Permanently Scratches the Surfaces
Harmful Chemicals that Damage Furniture, Tile, Grout and Flooring
Clients Blaming You for Their Broken Items and Demanding Payment
My House Cleaning System Reveals Insider Secrets You'll Want To Know Right Away…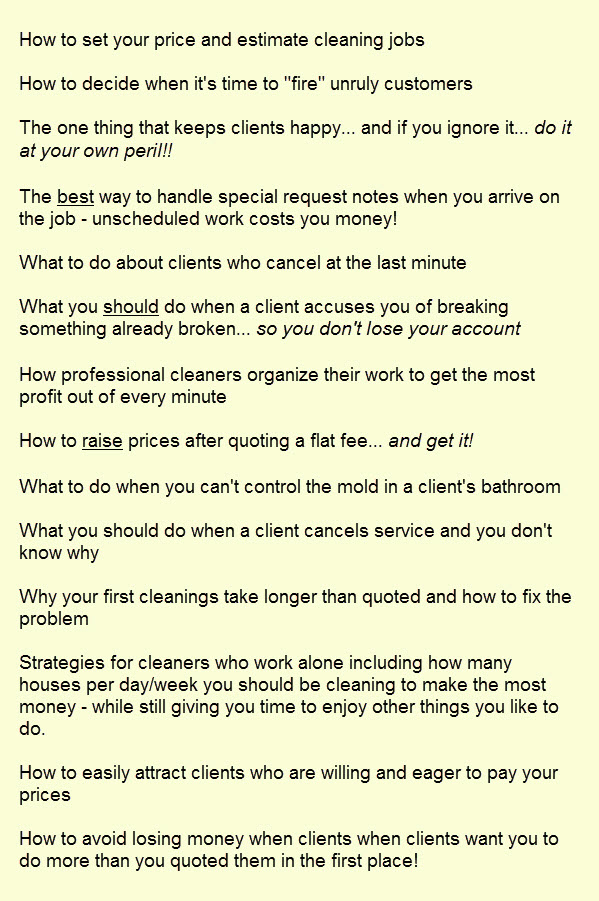 Doesn't this sound like good information you will need to start your house cleaning business? Why take the long road when the solution is right here in my Business-in-a-Box?

Here's What's Included in the Business-in-a-Box
New Updates for 2022!
My Business-in-a-Box is exactly what I say it is! You will receive everything you need to not only research the competition in your city – I'll also show you how to analyze what you found and identify how you can compete!
You receive the "how to" information in the eBook, worksheets to do the research and setup of your business, custom business forms for running your business, custom reports written by me to provide you with in-depth information on specific topics and how to plan, order or build your website.
And – I was the first house cleaning professional to offer my one-on-one mentoring to help you successfully build and run your business! I still include my coaching with each purchase.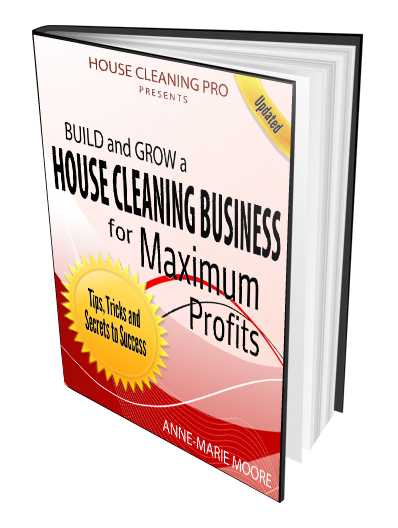 307 Page "How To" eBook
How to Start a House Cleaning Business and grow it into a professional residential cleaning business you'll truly be proud of. Organized into the sections you need to progress through while building your business.
Each chapter references the worksheets and forms you will use to define, start and grow your business for maximum profits.
Start with the "Getting Started Checklist."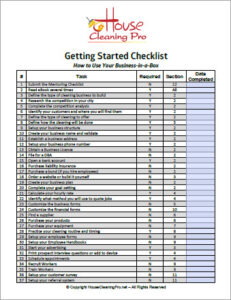 Use as a printable or a fillable form
Custom Business Forms
Use as Printable or Fillable Forms
Designed as fillable forms from your computer or device. Add your company information, logo and text customization. These forms include default text that you can use, delete or customize for your business so you don't have to begin from scratch! The invoice, mileage, and time sheet forms include calculations.
Your basic forms package has been designed to record valuable information for running your cleaning business which is in addition to the basic information you expect to find on your business forms:
7-page Service Agreement w/Terms of Service
2 Invoices – 1) Bill at Hourly Rate and 2) Bill with Flat Rate
Work Order
2 Time Sheets – 1) Calculate Overtime Daily and 2) Calculate Overtime Weekly
2 Checklists
Mileage Record
Flyer (6 Versions) – Canva Templates
Referral Coupons (4 Forms) – Canva Templates
Welcome Packet – Canva Templates
Complete Instructions are Included for Making Changes to all the Custom Forms
Upload your business logo and use on all the forms.
The blue shading on the samples are input fields when used as a fillable form.
You Also Receive These Additional Forms, Surveys, and Worksheets
Designed by the House Cleaning Pro to help you define, start and run your residential cleaning business.
26 Business Forms including 2 Estimating Calculators (by Hour and Square Footage)
30 Employee Forms
8 Financial Forms
597 Business Letter Templates
6 Worker Award Forms
10 Customer Referral Forms
3 Customer Survey Forms
26 Business Forms – Use as printable or fillable forms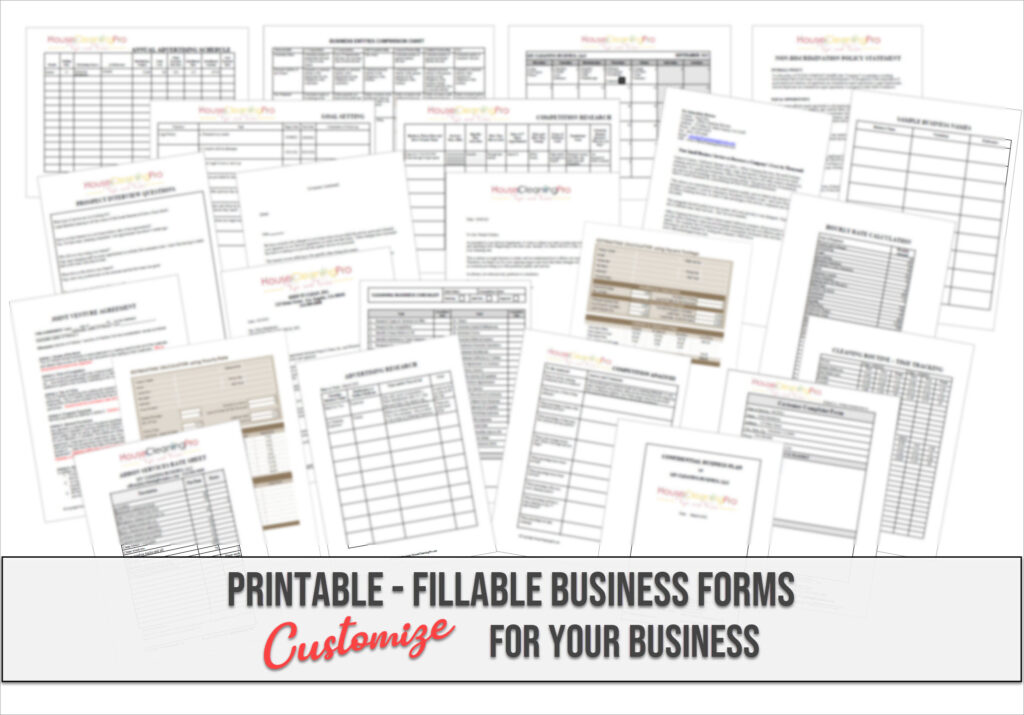 30 Employee Forms – Use as printable or fillable forms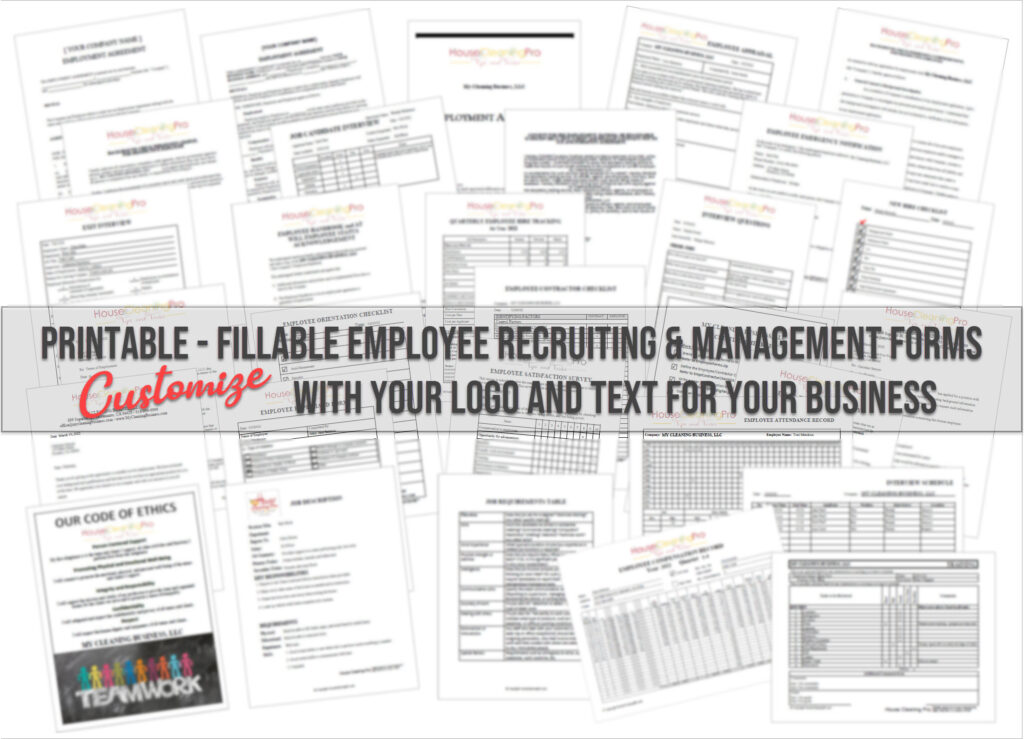 8 Financial Forms – Use as printable or fillable forms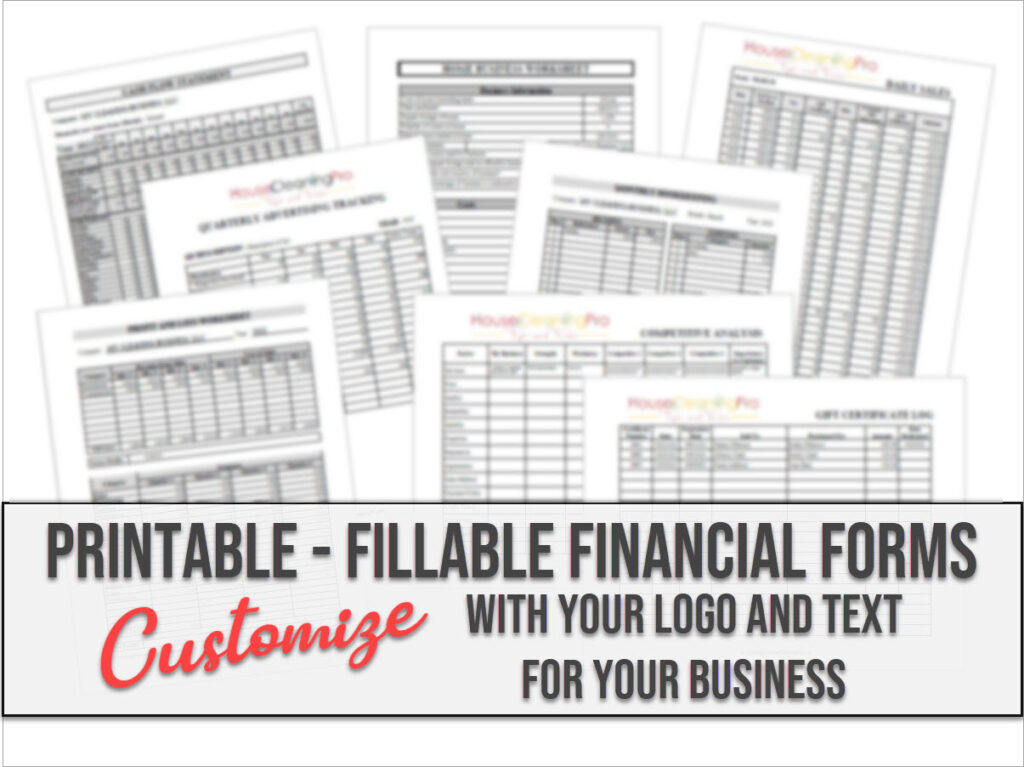 6 Employee or Worker Award Forms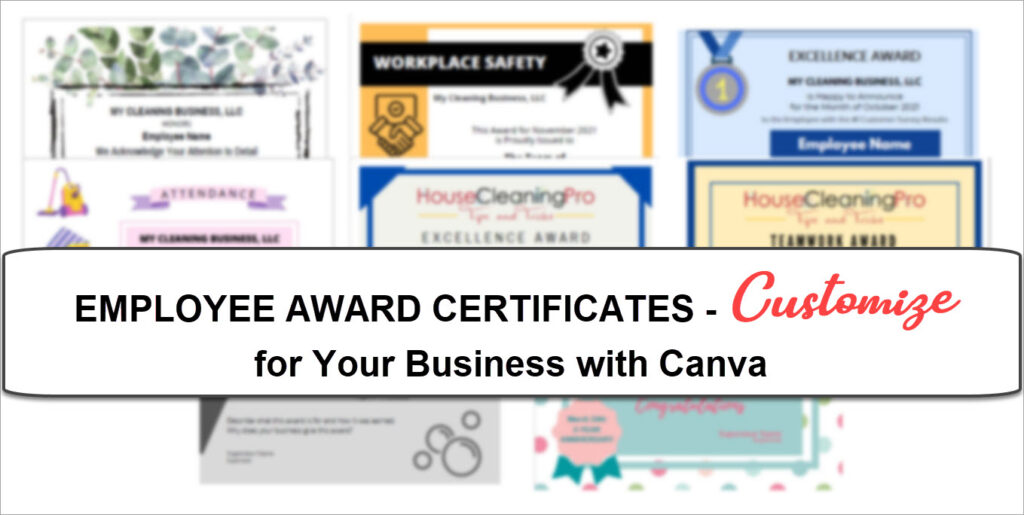 10 Additional Customer Referral Forms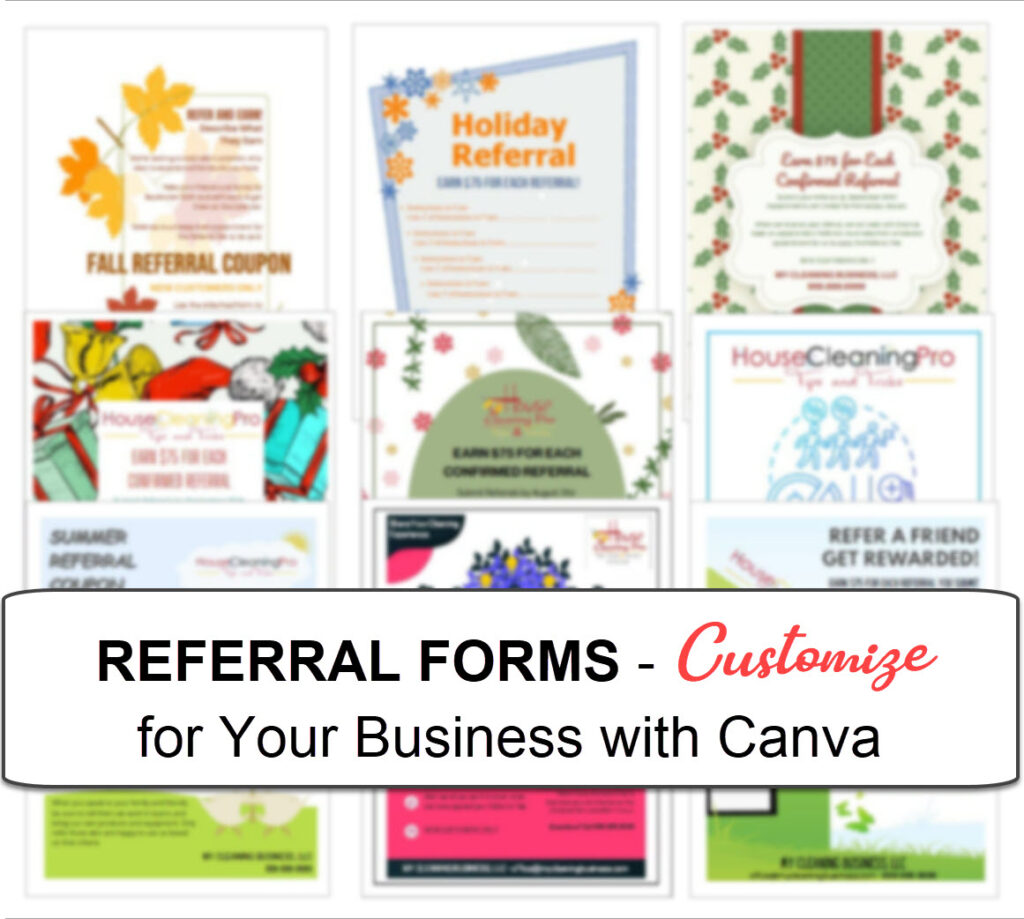 3 Customer Survey Forms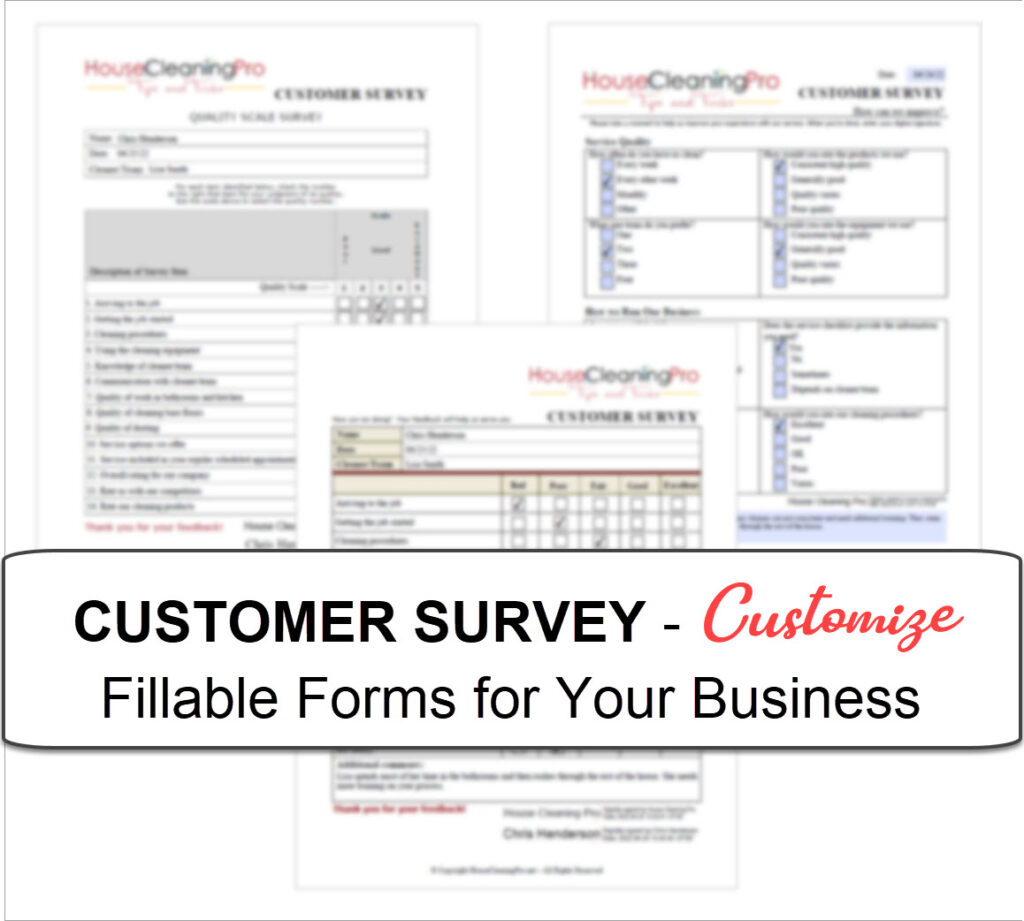 Employee Handbook Bundle
Designed by the House Cleaning Pro to establish your policies and procedures and employee training.
Employee Handbook
Employee Training Handbook
Employee Team Lead Handbook
Employee Safety Handbook
All handbooks come with default text for the House Cleaning Pro business model. Each document is delivered in Word format, ready for you to customize with your business policies. We also provide an alternative to Word and the option of using Google Docs.

Additional Custom Reports
Cleaning Essentials Without a Broom or a Dustpan
Independent Contractors
Proven Sales Strategies to Boost Your Sales
How to Generate a Constant Flow of Referrals
Chirpables – The Twitter Collection
Tweet Tips for Your Business
Understanding Facebook for Business
Your Business Website and Why You Need it
Classified Ads Template
eMail Templates
Leadership Skills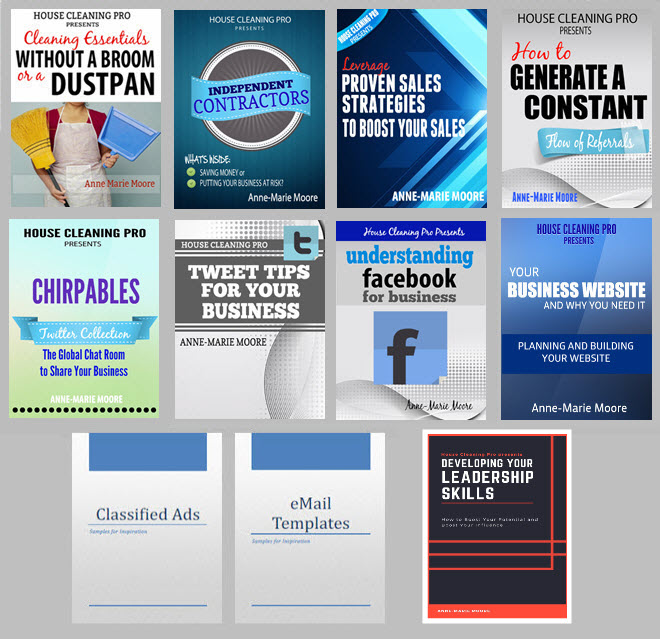 FREE Coaching
I will personally guide you, answer your questions, address your concerns and give you the encouragement you crave to succeed. This is not just "mentoring," it's hands-on, tell it like it is coaching from the Pro through my secret Facebook Group for Business-in-a-Box customers.
I wish I had someone to coach me when I started my business!
I had to use the old "trial and error" method. You won't have to go through all that because you will have your reference manual and me – ready to help you succeed.
11 Bonus Items…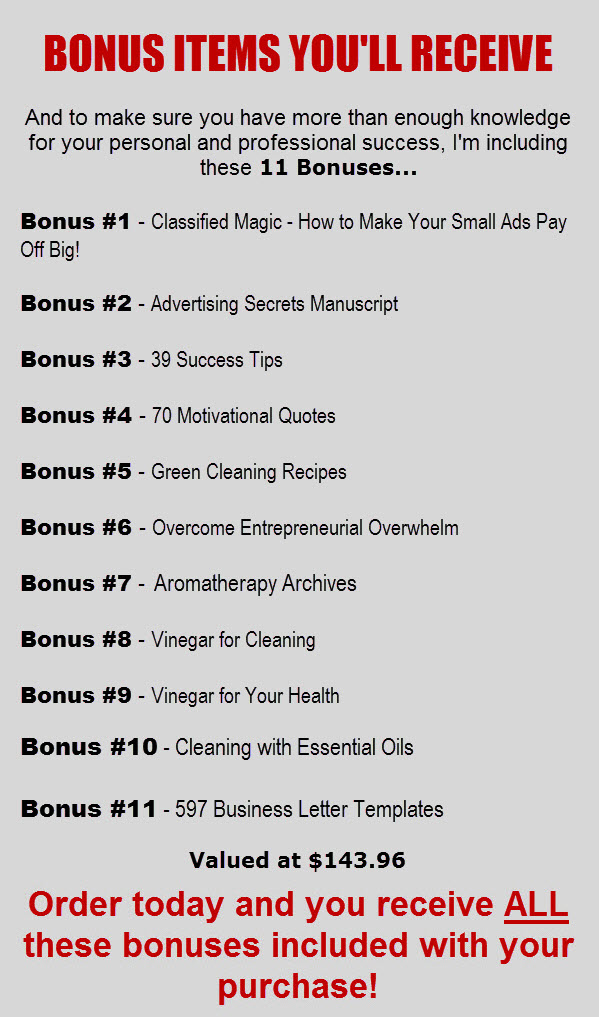 CLICK HERE for HCP Product Comparisons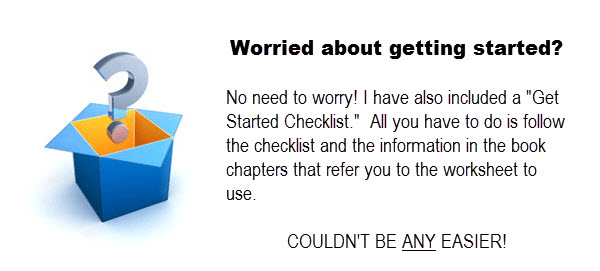 You'll also have access to my Facebook Group for Business-in-a-Box customers
This is where I provide coaching for success

What Some of My Customers Say
Continual Growth and Success! I am in my second year since buying your guides in 2015 to building a cleaning business and I have seen continual growth and success. I have a much better quality of life now that I work for myself and you are the reason I decided to try it. Thank you so much, sincerely.
Holly G, TN
Anne-Marie has helped me with all my tough questions & been there for me whenever I got frustrated. She spent alot of time helping me to be more organized & dealing with problem clients & situations I didn't have answers for. Thanks so much! If anyone needs help with their house cleaning business you are the one they should go to for advice!
Doreen, CT
Amazing package to purchase and be Successful. I purchased the Business Box and everything else! I believe this has been a huge help to my Success!!! I love the weekly Newsletter.
Maids 2 You Pty Ltd
Australia
Within two weeks of my first client I was completely full, then hired my first employee after a month. My employees range from 4-6. I can honestly say that reading the House Cleaning Pro it help me figure out the best steps. I'm not one to take high risk and it put everything into order so it wasn't a difficult change. There are things I need to improve on but my customers love my work & support me growing! Thank you for for being so detailed in the book & realistic.
Linda H
Great product! Very informative!
Katie, Canada
6 weeks ago I came from Russia and was desperate to make some money. I knew how to clean the house but I didn't know how to make income on it. I was skeptical about making an investment in this system but now I'm glad I did. I started following everything Anne-Marie says and now, (after only 4 weeks) I already have 11 clients that I charge $25-30/hr making total of $540 a week working only around 20 hours. And it doesn't seem to stop here!
Albina, KS

Do you have questions?
Business-In-A-Box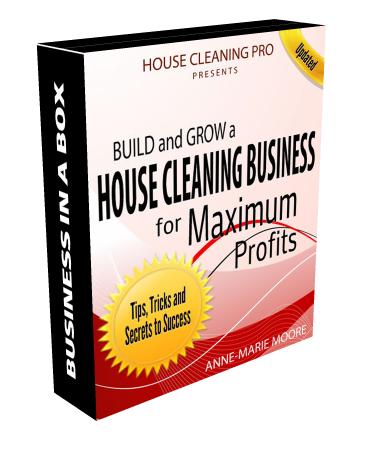 All products are digital and ready for immediate download
The ONLY source you need to start and grow your residential cleaning business
New Updates for 2022!
As a customer, you also receive our weekly
Tips & Tricks Newsletter
Use coupon code TODAYONLY for a special discount!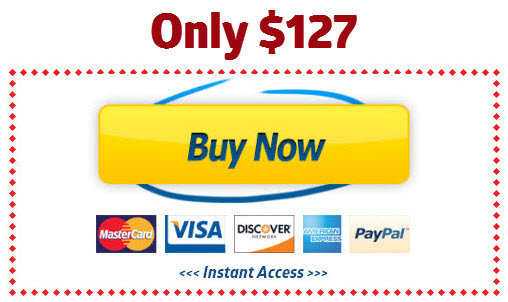 P.S. Are you thinking you don't need this much stuff? Think again – this is a plug and play system. Unbox your purchase – read the main book – customize the forms. You're ready to present your professional business to your community! Once you see how successful your home cleaning business will be, you'll be glad you invested in the right house cleaning business information to manage your future!
P.P.S. Your Business-in-a-Box is a legal tax deduction to start a cleaning business.