How to Start a Cleaning Side Hustle
Need to earn some extra money? That's what a side hustle is for – it won't take up all your time, but it can earn you some decent cash when you structure your service for your target market in your city. I'll show you how to start cleaning houses for money in this post.
Now this is where most hustlers get it wrong – they don't know how to target a market and price their service for that market.
This Post Reveals the Steps Needed to Setup Your Side Hustle for Maximum Success:
Why Selecting a Target Market is Important
Identify Your Competition to Help You Create the Service You Offer
Presenting Your "Irresistible Offer" to Your Target Market
What to do After You Present Your Offer
Next Step After You Complete the Service
House Cleaning Side Hustle
I tell people all the time… "Everyone wants their house cleaned, but not everyone wants to pay what you charge."
This is what motivated me to write this blog post to start a side hustle. You can get started quickly, but you can be more effective when you follow these initial steps.
You will be working as an independent house cleaner using your customer's products and equipment or you can invest in your own. Using your own products and equipment means you're always prepared, making the work easier and faster. If you decide to rely on your customer, just realize they may not replace products as needed or fix the broken vacuum in time for your appointment!
Independent house cleaning as a side hustle allows you to schedule appointments when you want to work, in the areas of your city that you want to travel to. Starting small, you have the ability to grow larger as word spreads of your service.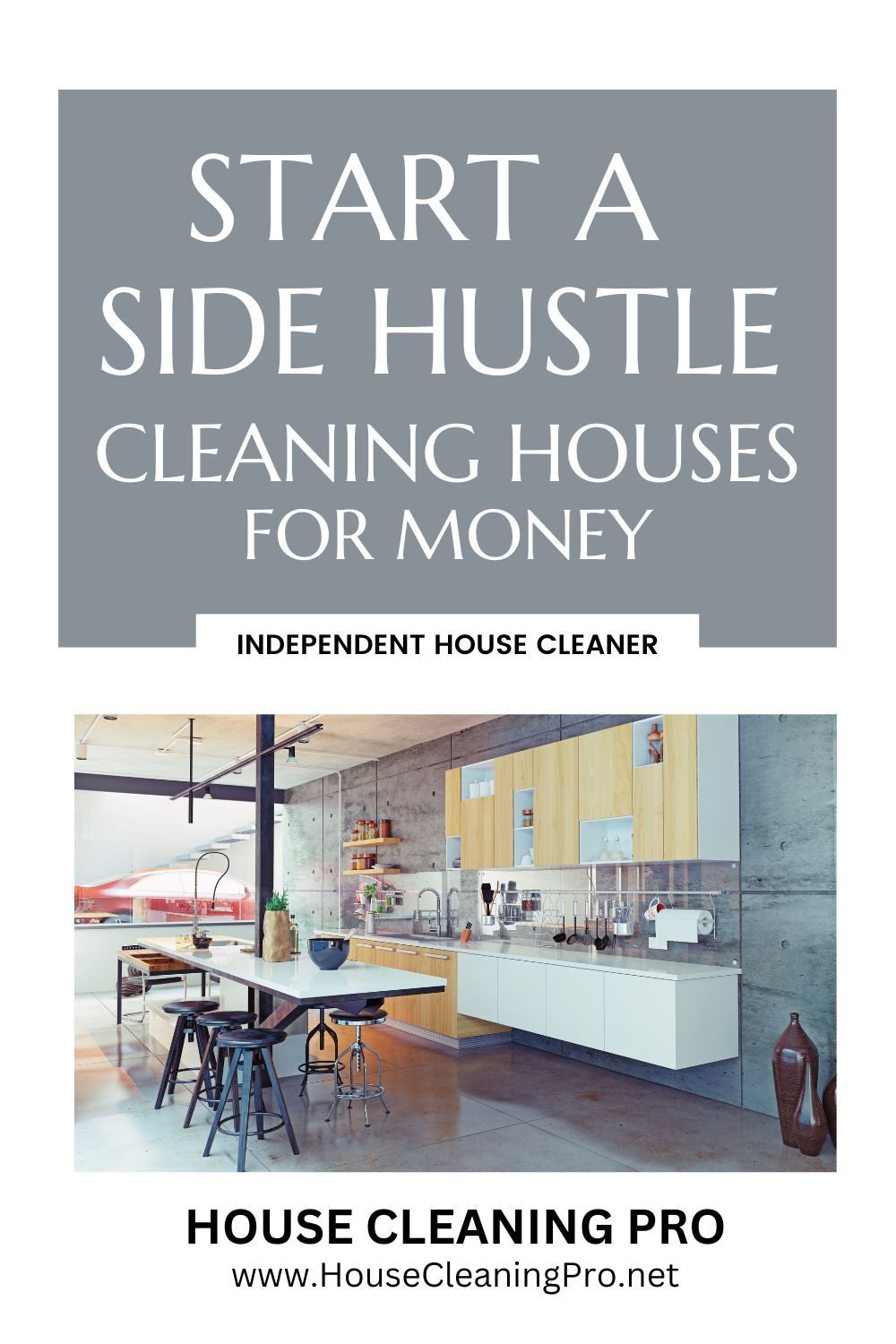 Selecting a Target Market
Look at it this way: In your community there is a wide range of people from different walks of life.
Some will never pay anyone to clean their home
Others might consider it for the right price
A specific category of people will pay just about anything you ask if you can give them what they want and need.
This is where you identify which category of people you will service – this is your target market.
About Your Target Market
Now that you know who you will service, you need to do a little research to discover:
Who the people are
Where they live
Demographics of the community
What they need
How you will meet their needs
What price they are willing to pay
To get the demographics for for your target market, perform a Google search for your city, state and "demographics."
We have more detailed information to help you research and identify your target market.
Identify Your Competition
There are many different types of residential cleaning companies in every city. Do your research to identify:
Who is running ads to your target market
How long the ads have been running
What they offer
What they charge
Check out all the franchise cleaning businesses, independents, and solo cleaners. Use every method you can think of including Google, social media platforms, Yelp, snail mail coupons, etc. To do this efficiently, research those methods that are currently working in your city.
Here's a helpful article on how to research the Facebook ads your competition is running: Click Here
You can see what Merry Maids employees have to say about working for them here.
Want to know the common issues customers had with Maid Brigade? Click Here
As you can see, there are many ways to research the business.
You can assume the ads that have been running for a while are working. If they weren't converting leads into customers, they would not continue running them.
To find your competition, Google "house cleaning service" + your city and state.
Define Your Service
Now that you have completed the research for your cleaning side hustle, you need to outline the specific services you will offer and the rate you will charge. Identify any gaps you can fill that your customers can't get with other services at the price you charge.
For additional help on earning in the house cleaning profession, use my FAQs.
Presenting an Offer to Your Target Market
Now it's time to transform your service idea into an offer. This offer will tell people exactly what they will get for their money and ideally makes it clear how much money is required to get it. "House Cleaning" is not an offer. "House Cleaning Starting at $50" is closer, but you need something closer to an "irresistible offer," which is something they can't refuse.
"House cleaning starting at $20 a room. Tired of cleaning companies that charge more than you want to pay and do more work than you need?  We clean only the rooms you need cleaned, to your specifications, using your products and your equipment. Sit back and relax – we got this covered! To schedule an appointment, call now 555-111-1111."
You can easily tweak this example for the rate structure you use:
"House cleaning starting at $50 a room."
"House cleaning starting at $20 per hour."
"House cleaning starting at .15 per square foot."
In this example, you have told them exactly what you charge, what you do, how you do it, and how to get started. This example is not valid for all target markets. You must present your offer for the service you have designed for the demographics of the market you have targeted.
Your offer must give people all the pertinent information they need to take action. It must include:
The Problem: Identify a problem this type of customer may have
Your Promise: How your hustle will change their life
Your Pitch: Why they should act now
The Price: What it costs
The Problem
Every target market has a problem that you can solve. This provides you with the chance to design multiple different ads with each one identifying one problem and how you will solve it. You can't create one ad that speaks to multiple problems. Remember – one problem = one ad.
Your Promise
Your promise must tell them specifically how your side hustle will make their life better. This ties directly to "the problem."
Your Pitch
Tell them what's in it for them. The key to this is to instill a sense of urgency. Answer the question, "Why should I take action right now?"
Your Price
If you offer multiple levels of service, using the "starting at $20" is valid, but it requires the reader to wonder what's included and why it's a starting price. You will get more response to your offer when you tell them exactly what they will pay, such as "$20 per room flat fee." Tell them what to do to get this offer and how long it will last. You could design different offers with an expiration date. You could even put it on a dime sale and up the price 10 cents every hour.
Getting people to take action is referred to as your "call to action." Examples of this are:
Call now
Click here
Sign up here, etc.
Your call to action should make it easy for the reader to follow through. Hopefully you have generated enough incentive before the call to action to make it a "no brainer."
I've made this easy for you in my Marketing Swipe Files product for house cleaning ads ideas. Don't try and figure out phrases and headlines that may or may not work. I've already done this for you! Get 418 helper scripts in my marketing swipe file.
Will you be placing ads or delivering your message by canvasing neighborhoods? Here's how to succeed with flyers in your community. Check out these posts on using social media.
After You Place Your Offer
Once you publish your offer, you need to make sure you are ready to respond to inquiries. Respond as fast as you can – usually within one hour. Have your calendar ready so you know when you have open time to complete the work.
You may be a side hustle, but you still need to operate in a professional manner. Send out confirmation eMails and text messages. Send out a reminder the day before so they know you're coming. Invest in business cards and leave a few behind to encourage referrals.
During your cleaning appointment, you'll get better results using a cleaning quality control checklist. Not only does it help you so you don't forget anything, but it leaves a record for the customer and allows you to provide additional notes. Our house cleaning checklist template can be used as a printable, a fillable form on any device, or you can completely customize it with the Word document included with your purchase.
After Service Has Been Completed
After you provide the service, give them a call or send a notice and ask if they are happy with your service. Get them to provide you with a testimonial that you can use on your social media pages to encourage others to use your side hustle. There are laws that regulate how you use these testimonials, so be sure to read this post on using testimonials in advertising.
Keep a list of services your customers ask for and decide if they are worth adding to the base service you offer or perhaps should be on a list of "extra services" you can provide. Keep in mind that you can always contact them again for regular service or one off extras.
If your cleaning side hustle turns out to be more popular than anticipated, this may be the perfect time for you to consider turning your side hustle of cleaning houses for money into a professional business. Use our blueprint for how to start a house cleaning business with no experience with the Business-in-a-Box or check out the Premium House Cleaning Success System.
Next Step
Need more help to start a house cleaning side hustle? My Tips and Tricks for independent house cleaners provides you with everything you need to know on how to become an independent house cleaner to start cleaning houses for money: the cleaning process, products, setting your rate, etc.
Use my product comparison table more information to help you succeed.
blank line
To Read Next: