Provide Fast and Accurate House Cleaning Estimates
Use an Estimating Calculator to Standardize the Quotes for Your Business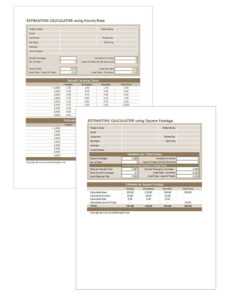 One of the hardest thing for new cleaning business owners to do is give accurate estimates and quotes. Now you can with an estimating calculator you can customize for your business.

Start with making the decision to provide your quotes using an hourly rate or square footage. Both options allow you to input your company default settings for the type of residential cleaning you have defined.
For each quote, enter:
Name, address, and square footage
Information about people and pets living in the home
Load values the calculator uses to vary the default values you have established for your business. For example, this can increase the estimate for homes that have more contents and dirt to clean than the average.
The calculator returns the estimate for weekly, bi-weekly, monthly, and first-time cleans.
Feedback on the Estimating Calculators
I used the calculator based on a 1st time apartment clean I did 2 days ago. Works pretty slick. I like that we can add and edit the variables. Also puts it onto the calculator how you came to their price. Pretty tough to argue with that.
– Shannon
The Estimating Calculators are EXCEL spreadsheets
Currently, these files are executable using Google Drive
Standardize your estimates and quotes so you ALWAYS get paid what you're worth!
Use coupon code TODAYONLY for a special discount!