Many cleaning business websites provide an instant quote for their visitors. These sites base their cleaning on square footage. In my experience, people don't view their homes through the eyes of a professional cleaner. Nobody admits they are messy. Sometimes, they are so used to the condition of a messy home that they can't see how much work it would be to clean it.
They just don't view their messes or level of dirt and debris the same way we do, so it's difficult to provide a realistic quote without actually viewing the interior of the home yourself.
Businesses that run their prospecting based on a website are relying on high traffic to convert a good number of their visitors to paying customers. They can then average the revenue to ensure they are earning enough profit.
Most small businesses can't justify losing money on new jobs. Realistically, you need to interview your prospect and view their home to provide a valid quote.
The House Cleaning Quote
A house cleaning quote for a first-time appointment is usually an estimate based on the condition of the home at the time you provided the quote.
A cleaning quote is your professional assessment of a house and informs the individual what you will do, approximately how long the work will take, the cost, and when the work can be completed.
You must inform the individual whether this is a hard quote that will not change – such as for ongoing, regular service, or that it is an estimate for an initial clean and will be based on the time it takes to complete the job.
Imagine yourself looking for a residential cleaning service; you've never had your home cleaned by a professional, and you don't know what to expect. So you call a house cleaning service. They explain that their service is based on an hourly rate, and the time it takes to clean your home. Since it is not a fixed price, you'll want assurances they will clean what is important to you in a time frame you can afford.
A formal cleaning quote helps your prospective client feel at ease. They can rest easy, knowing exactly what you will do for the amount they're comfortable spending on house cleaning.
Most residential cleaning services also provide separate quotes for the initial cleaning and an ongoing service. The initial cleaning prepares the home to the standard they have defined. This standard is then maintained in the ongoing service. Since many unexpected conditions can be encountered on the initial clean, they are sometimes quoted at an hourly rate for an estimated number of hours. These hours can be negotiated on the job with the customer if the actual time exceeds the estimated hours. The ongoing service is quoted at a fixed rate that will not change. In this example, your quote will include both the initial cleaning and the ongoing service.
When to Provide a Quote for Cleaning a Home
Anytime you provide a quote to a prospect, you should follow up with your documented information.
Yes, even if it's just a phone call. In the age of text, getting someone on the phone is a special occurrence – make the most of it by creating trust and connection. During your follow-up call, you can provide them with the requested details in case they want to book an appointment for a later date. The cleaning quote should specify whether it is an estimate or a firm price, when you are available, and when the quote expires.
Although you may receive many phone calls, not everyone will be ready to schedule an appointment. Many are researching cleaning services. In this case, you should get as much information as possible, document the call, send a quote, and perform several follow-ups. Be helpful. If they are unfamiliar with common industry practices, help them understand what services are available. The more your client sees you as a trusted source of information, the more they'll be interested in booking a cleaning with you.
Download my Simple Phone Quote Template
In-Home Estimates Provide the Most Accurate Quotes
The easiest prospects to convert into paying customers are those who agree to a free in-home cleaning estimate. These do take time. And, they are extremely useful. It allows you to get specific information about the home and to talk about your cleaning service. I always obtained invaluable information during these estimates.
For instance, as you're viewing each room in the house you have a chance to chat with the prospect and get a view into their living habits. You may learn they have step-children and pets that visit twice a month. This will directly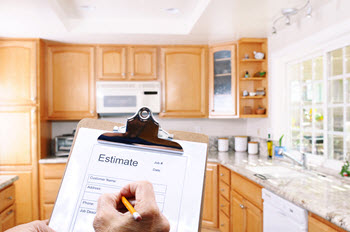 affect the time it takes to clean the home every month. You may never have learned this on a phone estimate because the prospect didn't think it was important.
During the walk-through, check first-hand what condition the rooms are in. Discreetly feel surfaces and look behind furniture. This will reveal the level of soap scum in the shower, the grease in the kitchen, and the dust that has accumulated in the living areas. Without this knowledge, you would be providing an inadequate quote that would lead to you not covering your costs on the job, i.e. losing money.
An easy way to provide an estimate/quote is with an Estimate Calculator. Set the default values for your cleaning business once, and enter load values to vary the quote for the home's condition. A home that requires extra work is quoted accurately since the load values will increase the price.
An Estimate Calculator creates estimates for weekly, bi-weekly, monthly, and first-time cleans. Even if you only provide a phone quote, you can still use an Estimate Calculator to create accurate quotes by asking the right questions.
The quote for an in-home estimate is provided during the cleaning inspection. Or, you can provide it later, after you prepare a more formalized quote. Let your prospective client know when they can expect the quote to arrive.
If you'd like more details about the bidding process, from the phone interview to the home walk-through, you can find it in this report. 
If you'd like a script to follow, you can copy my bidding process for house cleaning jobs. I followed an easy script that I used in every home I inspected. I had a 98% success rate landing quoted jobs. Get the script here.
Why You Should Provide Formal Quotes
Once you start providing quotes for your house cleaning service, knowing who you spoke with and what you told them will become difficult. This can create issues as you lose track of which home needed which service. Documenting your quote clarifies your service for your prospect. You both will be able to reference the quote to know what was discussed and agreed to. Doing this frames your business as professional and reliable.
Your quote also keeps you profitable. It ensures that you have accounted for any requested extras included in the quoted price.
Your quote is a legally binding agreement between your business and the customer. It helps ensure that you get paid for your work with no surprises on the job. Once you start working for this individual, your quote document (contract or agreement) can easily be referred to should any questions or disputes arise. It can help de-escalate any disagreements that arise – as long as you've been detailed and thorough in your documentation.
One of the risks of working without a quote is that your client will ask for extra work not initially agreed – and of course, they'll ask after you've already started to clean.
Your quote is your assurance that you get paid for the work you agreed to do – not the extras they ask for at a later time. These extras are above and beyond the quote you provided. These requests will need to be priced individually. This is a good reason to have a separate rate sheet so all your clients know how much you charge for specific extras.
What to Include in Your Quote
Always include your company name and contact information in the quote. You may also want to include your website and social media links to validate your business.
An informal quote from a phone interview can be as simple as providing the prospect with what you discussed, what you charge, and when you're available and can be sent via email.
A formal quote for a residential cleaning service should include:
Customer contact information
Detail information about the residence
Notes taken during the walk through
The estimate and/or flat quote
Date service begins
Your company service policies
Keep in mind your formal quote provides you with all the information you need to service the customer – and – provides the customer with all the information they need to know about the cost of the service, what the service includes, and how you do business (service policies). For instance, if you have a cancellation fee it should be included on the quote.blank line
The ability to write an accurate quote is essential to running a professional business and as a customer service benefit. It instills trust and provides assurances for customers wanting to use your house cleaning service. It can ultimately reduce or eliminate communication issues and provide answers to common questions that usually arise.
Your house cleaning business quote instills confidence with customers because they understand what you do, when you will do it, and what it will cost. It's a win/win for everyone.