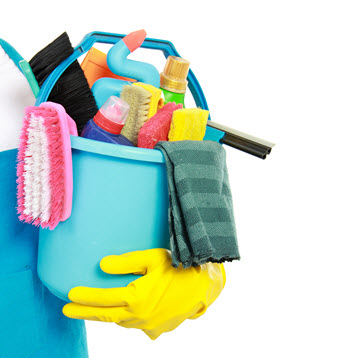 Anyone can start a home-based cleaning business today. You just need to know what type of cleaning you want to do and what you are best suited for.  Once you know this, you can start your home-based business on your off hours and keep your current job until you're ready to give it up.
When do You Want to Work?
This is the key to knowing what type of cleaning business you can start. Don't worry – many people start one type of cleaning business and add other services as they grow. For now, you just need to know what cleaning jobs are available to do on the hours you are available.
1) Office Cleaning
If you are available nights and weekends, office cleaning is the perfect work for you. These jobs are available after the staff has left for the day and some businesses even schedule the work early in the morning. To get started, you will want to solicit the small businesses in your area. Many of these can't afford or do not want to deal with the large janitorial companies.
What You Will Need
You can get started cleaning these small business offices with products and supplies you have in your home. If there is a lot of flooring, you might need to invest in a larger mop, but that's about it. Basically, you will need:
All-purpose cleaner
Window cleaner
Cotton or microfiber rags
Toilet bowl cleaner
Toilet bowl brush
Powder cleanser
Hand pads
Vacuum
Mop
Water bucket
Does this sound like the type of cleaning you would like to do? Get started now!
2) House Cleaning
If your days are free you might enjoy cleaning houses in your area. Before you jump in you need to know that many times the owner will be home while you are cleaning. Therefore, if this makes you nervous working around people, you might want to skip this type of cleaning. You'll want to be neat and tidy to make a good appearance, and you'll want to make sure you use good cleaning routines to build trust with your clients.
The types of people who need your service most are families and seniors.
What You Will Need
You will need to determine if your customer wants you to use their products or yours. There are drawbacks to using their products and equipment. For instance, they may not re-stock one or more products that you need to use, making cleaning on that day difficult. Or the vacuum may not work or may be out of bags. For this reason, I like to bring my own products and equipment to each job.
All-purpose cleaner
Window cleaner
Citrus based cleaner
Shower/Tile cleaner
Toilet bowl cleaner
Lemon oil/polish
Hand pads
Toilet bowl brush
Toilet bowl scrubber
Cotton or microfiber rags
Upright vacuum
Floor vacuum (optional)
Mop
Water bucket
If you would like to work in nice homes, house cleaning would be the perfect job for you. To get started right, check out my step-by-step instructions on how to become an independent house cleaner.
3) Window Cleaning
This is good work for those who are available daytime and weekends. You can start with cleaning the windows on residential homes – this includes the interior and exterior. Many homes today are two-story, so you will need some extra equipment that you may not already own.
What You Will Need
Window cleaning soap
Cotton rags, microfiber, and/or window wand
Squeegee
Bucket
Ladder
For more information, use this link on getting started with window cleaning.
Make Your Decision
These are the most common types of cleaning businesses you can start from your home. They are relatively easy to get started and as you can see, most of the products and equipment you need are already in your home. For more detailed information, download my free report to see if cleaning is right for you.
Getting your first customers isn't too difficult and there are many free and low-cost options you can look into. You can use 1) flyers, 2) Craigslist, 3) or even start with your family and friends as your first customers. Your success depends on your ability to provide the type of service your customers want. I suggest practicing your cleaning routine in your own home until you are confident you can transfer your process to locations you are not familiar with.
The easiest way to get more customers is through a referral program. This is quite easy and only requires that you leave a promotional item with your customer to encourage referrals. You can start with your business card and hand write your offer on the back. You'll want to upgrade to a more professional card once you have the budget.
Once you are earning, plan to re-invest some of the profits back into your business to keep it going. This will allow you to purchase the best cleaning products and equipment and expand to a larger customer base. Once you have this business rolling, your options are endless. You can quit your day job, you can add more services, and you can hire workers to do the cleaning for you.
Is Starting a Business Right For You?
You shouldn't make the decision to start a business until you're sure you know all that will be required of you. I've had many people tell me they had no idea starting a business would take up so much of their time. Others didn't do so well because they didn't take the time to research their city before diving in.
Don't make these mistakes and more – download my free report and checklist today to see if becoming a business owner is right for you.
[rectanglebox id=32]