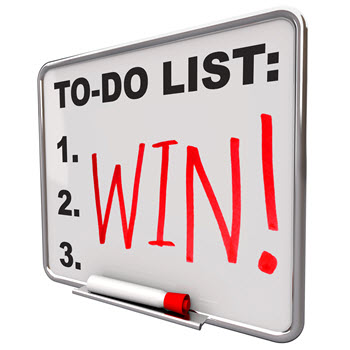 Your job as a small business owner is to STAY in business!
Once you open your business, you are in a continual race with your competition for the best customers and a way to provide the best services. This race can take up a lot of your time monitoring how they run their business and identifying the marketing they are using.
Unless you're running a specialty cleaning service, the chances are good that another residential cleaning business in your area is offering something close to or exactly the same as your cleaning business. And they may be doing it better! If you don't know who this business is, then you will eventually lose your customers or your business to them. This is why you need to stay on top of your competition and outsmart them to retain your share or even gain the advantage.
Here's my step-by-step plan to stay ahead of your house cleaning business competitors.
Know Your Competition
Make a list of your competition and update it every year. You may have collected this information when you researched the industry.
Create a File on Your Competitors
This is your "swipe file." It can be a file you store on your computer, which is easy when you're collecting links to their website pages, advertising, social media pages, etc. This can turn into a good collection of advertising samples, services they offer, and marketing they are using. When you get something in the mail, scan it and add it to your file or keep a separate physical notebook.
Gathering the Competitor Information
Always look for their list of current services, special offers, prices, what they're doing now, market area, quality, and anything new they are planning. This will provide you with their present objectives and future plans. I always get a friend or family member to give their service a try and give me their feedback. When you're interviewing new prospects for your business, get them to talk about other services they have used and why they didn't stay with them. This information is invaluable to your business.
Competitor Spreadsheet
Take all the information you have gathered and create a Competitor Spreadsheet. This spreadsheet will compare apples to apples and show you what you want to know about your competitors when you need it. Here's the key to making this spreadsheet useful – add your business to the report. This way you can see where you stand next to your competition.
Using the Competitor Spreadsheet
Once you have all the information entered into your spreadsheet, you need to do some analysis. This isn't as difficult as it might sound because a lot is going to jump off the page and make you take notice. For instance, you may notice some interesting things about services and pricing that you may want to look into further. If you're not priced competitive, you'll be losing jobs. To correct this you could add some benefits to your service or lower your price. Lowering your price is never a good move, so if I were you I'd look at what I could do to justify the price.
Once you have your competitor information and files setup, all you have to do is update them as new information becomes available. Do you want to stay ahead of them? You can easily do that when you know what they're doing. You can even tailor your advertising to match or undercut them.
It takes a lot to build a small business today. Don't get put out of business by a competitor that used these tactics against you. There's nothing unethical or immoral about using your competition to grow your business. You're just being smarter than them!
[squarebox id=29]