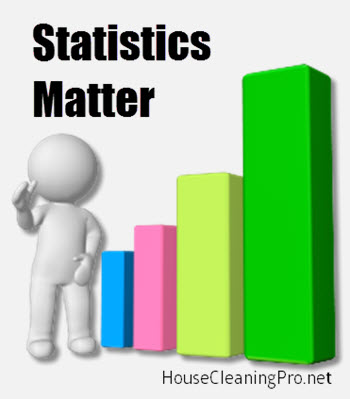 A service based business relies on the quality of the service they provide to attract new customers and retain existing clients. If you're like most small businesses, you may think this is the key to your future success. And you would be wrong. The only way you're going to keep ahead of your competition is by giving good – no, you really need great customer service.
I'm not talking about handling the day-to-day customers – I'm talking about going above and beyond. When you do this, you become the business your clients want to rave about… to everyone they meet. These referred customers are the best kind of customers you can hope to get. They already know about your business and what you can do for them.
Pay attention to these customer service statistics because they could make or break your small business.
1) Unhappy Customers
Only 4% of dissatisfied customers will tell your why they are unhappy. That means 96% of customers generally will never voice their complaint and will instead, cancel the service and go to your competition. And to make things worse, these unhappy customers will tell 10-20 other people about their bad experience. Imagine how fast this news can travel.
2) The Cost of Acquiring New Customers
It is 6-7 times more expensive to acquire a new customer than it is to keep one. If you're not keeping tabs on your customer satisfaction level, it could take you a good amount of time to replace one cancellation. For this reason alone, it pays to have a good marketing program active every month of the year – not just when you need it.
Don't forget to keep your existing clients happy. 7 in 10 Americans said they were willing to pay more with companies they believe provide excellent customer service. Invest a few dollars to keep them. Invent reasons to give them a $20 or $30 discount from time-to-time. For instance, you could send them a coupon on their anniversary and tell them how much you appreciate them as a valued client. This could also generate valuable word-of-mouth for your business!
3) Top Reasons for Customer Loss
Customers have two top reasons why they stop doing business with a company:
Customers feel poorly treated
Failure to solve a problem in a timely manner
Knowing this, you should review how you treat your customers. Arriving late to an appointment could be construed as being treated poorly by some people, especially seniors. Resolving a problem in a timely manner could mean different things to different people. Don't assume your definition of timely is good enough. When a customer takes the time to complain, be sure to ask them what you can do to rectify the issue. Surprisingly, they will usually tell you exactly what they expect.
4) Probability of Selling Your Services
The probability of selling your service to a new prospect is 5-20%. The probability of selling to an existing customer is 60-70%. These numbers alone should show you how valuable your clients. These numbers mean you could sell new customers on a basic service and later easily upgrade them with premium options. For instance, give them options of more monthly, quarterly, or annual services, such as light fixtures, baseboards, windows, or a deep cleaning.
Customers also said that competent service technicians accounted for 78% of their happy customer experience. This clearly shows the importance of training your workers in customer service techniques. It's not always just about the cleaning – how your workers treat your customers is extremely important to them.
Providing great customer service can lead to increased customer retention and getting them to spend more. This will increase revenue, reduce operating costs, and could even increase motivation with your workers. Survey your clients on a regular basis and take action on what you learn. Keep them in the loop so they know the time they spent on taking the survey wasn't wasted.
Surveys are so important, you receive three (3) in the Business-in-a-Box to start a house cleaning business – with default issues on the surveys you can customize!
When was the last time you surveyed your customers? Leave a comment and share your experience.
Get more tips and tricks when you join my House Cleaning Business Mastermind!

[bannerbox id=4]