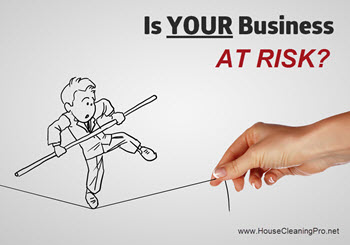 The risk management plan is different in a small business than that within a large corporation, but the problems that arise as a result of poor risk management are the same.
For many small businesses, all it takes it one hit to knock them down.  Every dollar counts and unforeseen events and losses could cost you more than you can afford to lose.  Like many, you're probably thinking this is why you have business insurance. Unfortunately, insurance companies are unreliable with the always changing coverage and policy cancellations.  Why risk your business when all you need is smart planning to begin with?
Reduce Insurance Premiums
Good risk management can reduce insurance premiums just like a security system can reduce your homeowners insurance. It can reduce your chances of being sued and increase your chances of winning a lawsuit if you are taken to court.
One small investment in a paper shredder can reduce exposing your clients to identity theft. Ensuring that you and your employees have auto insurance can prevent the risk of you being sued as a result of an auto accident.
Taking care of your physical needs when you are doing the house cleaning yourself is good risk management.  Find a good massage therapist or chiropractor and schedule monthly or more frequent appointments.  Wait too long to make this appointment and you risk losing clients when you can't make their scheduled cleaning.
Your summer schedule can take a big hit when customers decide to save money and do the summer cleaning themselves. Others cancel because they are away on vacation and don't need their regular scheduled appointment.
Perform a Business Risk Analysis
When faced with a few extra hours this summer or when business is slow, make the decision to do a business risk analysis to show you where you are at risk. These are good starting points:
Client Keys
Hazardous Chemicals
Money Handling
Scheduling
Illness
Long-Term Disability
Worker Performance Reviews
Car Insurance
Client Records
Background Checks
Computer System Hack
Natural Disaster
Employee Accident
These are just a few areas to look at to determine where you are at risk.  For example, are your client keys at risk during a home invasion?  Are you protected from a worker or home owner slip and fall while you are mopping the floor?  What is your backup plan in case you get locked out of a house?
What is the monetary cost of these risks to your business and perhaps, to you personally? Protect your business with a good risk management plan.
[bannerbox id=19]