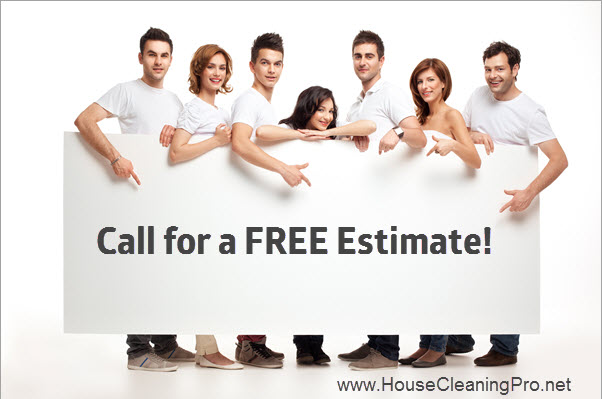 A house cleaning business is based on trust… after all, you're in private homes surrounded by the possessions and irreplaceable items your clients can't live without. Who lets just anyone into their home? For this reason alone, the easiest way to attract people to your business is when you're out and about in your city. There's no faster way to introduce yourself and how you can help than with a good business card.
Think back to the last time you were buying groceries and waiting in line. This is one of the easiest times to start a conversation with someone else waiting to pay for their groceries. You could start a short conversation by stating, "I run a small business in the area, what about you?" This is a good starter for the other person to ask you what type of business you have.
The person checking out your food may be interested in side work or even finding a new job. A natural conversation starter would be, "How long have you worked here?" You could follow up their response with, "Would you be interested in additional work?"
Both of these scenarios is the perfect time to hand them your business card as you say, "Call me!" It's faster than taking up everyone's time (by holding up the line!) by exchanging info via your smartphone.
Even if you did manage to get into their contact list on their cell phone, it would get buried and probably never seen again. When you hand them your business card, they're bound to find it rattling around in their purse or stuffed into a shirt pocket. They'll instantly remember your conversation and if you did everything right, you could be getting a call for new service or a new worker.
If your new acquaintance doesn't need cleaning, maybe they know someone who does. It could be their neighbor, relative, or friend. Imagine all the missed opportunities if you're not handing out business cards!
Better Than a Brochure
Handing out a business card is more subtle than handing out a brochure to people you don't know and haven't asked for your expertise. People are used to making the mental connection between a business card and a contact. It's an acceptable form of introduction in personal situations, where as a brochure makes people cringe as it is associated with a sales pitch. Any place you frequent for personal and business… the local store, a trade show, networking groups, medical appointments… is a marketing opportunity for you to expand your brand.
Discover Why Business Cards Still Matter – Click Here
Don't Forget Your Elevator Pitch
Every good marketing campaign needs a good pitch and a better close. When you're networking, this is referred to as your elevator pitch. It should be short and succinctly explain what you do and why someone should care. You only have up to 60 seconds to get your pitch across. Here's what you need to know:
Your elevator pitch has a purpose, so you can
create a separate pitch for different situations.
I recommend having a standard pitch for those people you meet when you're running errands around town and a different pitch for when you're in networking groups… you get the idea.
Click Here for the 7 Steps for Writing a Powerful Elevator Pitch.
Download my FREE Elevator Pitch Worksheet to start attracting new customers for your house cleaning business as you meet new people around town!
Once you have a good pitch, you need a good close – and that's your business card. It provides all the information people need so you don't have to sell them in social situations. All you need to say is, "Call me – I have a few openings in my schedule and could get you in." This does two things – it tells them what to do and implies that you get booked up quickly which leaves them with an incentive to call.
Another way to pitch your close is to say, "Give me a call if you're interested in a free quote." This also leaves them with an incentive to call. It captures their attention if they are wondering how much a house cleaning service costs.
How to Design an Effective Business Card
You can quickly, easily, and for a low cost order your business cards online through Vistaprint, GotPrint, or MOO. If you are in a local networking group, someone in your group may have a lead on a local print service you can contact for a quote.
A simple business card for your house cleaning business could be as easy as this if you're targeting busy families: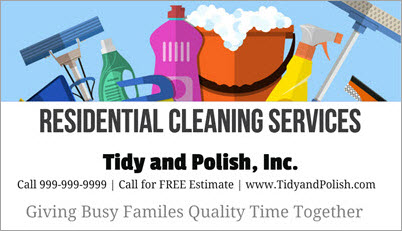 If you're interested in upgrading your business cards or ordering for the first time, there are some basic principles and elements of design you should consider:
1) Design – You'll need to design a card that can grasp attention without being confusing. The brain likes order and actually prefers organization in sets of three. If the brain gets confused, your carefully designed business card will be meaningless to the people reading it.
2) Card Sections – There are three main elements of the business card: the heading, middle and lower torso. Therefore, you have three sections to tell your story. There are the traditional methods of plotting basic information into these sections, but to get more attention for your card, be unique with your card layout.
3) Keep it Simple – Even though you have three main sections to tell your story, stay focused by listing only the most important information. That means you're going to have to write a business benefit or problem that will capture their attention and hold it. Remember, people don't want to know what you're selling as much as they want to know how it will benefit them. This is what gets your prospect's attention and makes them want to call you.
4) Be Unique – You don't want to be the same as everybody else, you want to STAND OUT from them. It's called your USP or Unique Selling Position. People do business with people; not a product or name. Think of how many people sell Avon products; I never thought I would purchase these products, but I did because of one lady that was persistent, likeable and targeted what I needed. She was the only Avon sales representative that knew her products and talked to me to find out what my preferences were. She then sold to my preferences.
5) Less is More – Especially in the small spaces of a business card. Just because you can select from many colors and shadings, you still need to keep it to one or two colors; and definitely not more than three. The brain likes order and combinations of three.
6) Include Your Website and Social Media – You don't need to use your business card to relay everything about your business. This is what your website and social media accounts are for. You just need to tell them where to go to get more information.
7) Use Both Card Sides – Also consider using the back of the card for a special offer. This could be a new customer special, it could be a discount that is good for a limited time – in this case leave a spot open for you to write in the date, it could even be a multiple discount for ongoing service. Don't waste this space as it is a valuable marketing tool – it's an added incentive for someone to call.
8) Fonts – Again you want to keep it simple. Choose a font and vary the size, using not more than three different sizes. New Times Roman is great for newsprint but not great for selling. Choose something easier the brain can handle like Ariel, Tahoma or Verdana.
9) Spell Check – One of the most important things you can do for your success. If you can't get the spelling right on your business card, why should they trust you with their business?
10) Online Ordering – Your order form will have pre-defined spaces for your business name, your name, phone number, etc. This is only a guideline for the information you may want to enter. You DO NOT have to enter your data in these pre-defined spaces. To be unique, you can enter your benefit in the area they define as your business name. Usually this is larger and in bold print. A benefit or problem makes more sense in this larger print area than your business name that people don't recognize! Remember – people are attracted to the benefit, not your business name.
Business Cards for Your Workers
Consider having a separate business card supply for your workers. This is a good way for them to spread the word about your service when they're working in a neighborhood. Don't include a name on the card – just your business information. All you need to put is, "Call for a FREE Estimate."
Having unique and well designed business cards to distribute locally sells you as a professional business and provides a way for you to sell your services wherever you are. They are low-cost, easy to order, and may help you grow your new business faster and cheaper than other advertising methods.
Need help with issues? Looking for more ideas to help you start or grow your business? Join my House Cleaning Business Mastermind today.

To Read Next: