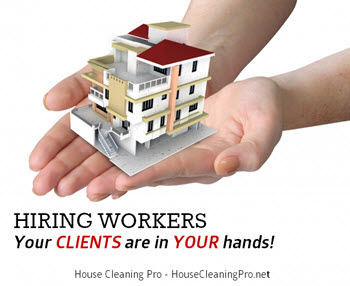 Nope – you don't have to hire workers!
You can run a professional cleaning business and plan to do all the work yourself. There's absolutely nothing wrong with that.
Just realize – you're never going to be free from your business, because you have clients to service and they're waiting for you.
Hm – Now What?
Well, when you build a professional business, you get to make the rules. And that means you can schedule vacations or time-off for yourself whenever you want.  All you have to do is pick a date and make sure you notify your clients at least four weeks in advance.
Why?
Well – some of your regular clients may want to schedule an appointment before you leave or right after you return.  When you notify them in advance, you give them the chance to work out any kinks your vacation or time-off adds to their schedule.
When you run your business, you prevent your clients from running it for you!
Making the Decision to Hire
This is a personal decision that only you can make. Performing all the cleaning yourself means you are in control of the quality of service that you provide. There is no easier way to keep your clients happy than doing the work yourself. If you have no desire to manage workers, then don't. If you want to learn how to be an independent house cleaner – using your own products and equipment will make your job easier and save you time.
Many people start a residential cleaning business because they love to clean and organize. Once they see the money they can make, they start looking for ways to increase their revenue. The only way to do that in this business is to hire house cleaning workers. This gives you the ability to clean more houses, something you can't do all by yourself.
Once you start hiring workers, you have more responsibilities. Here are some of the traits you must possess to be a good leader:
Emotional Stability – The ability to tolerate frustration and stress and deal with anything you are required to face.
Dominance – Leaders are dominant by nature and enjoy overcoming obstacles. You will need to be assertive in your thinking style as well as your attitude in dealing with others.
Enthusiasm – Leaders are active, energetic, open to change, quick, and alert.
Conscientious – Leaders have a sense of duty and tend to be exacting in character. They usually have a high standard of excellence and an inward desire to do one's best. They also have a need for order and are self-disciplined.
Self-assurance – Leaders are self-confident and resilient giving them the ability to make quick decisions when needed.
Empathy – The ability to put yourself in another person's shoes is a trait successful leaders have. Without empathy, you can't build trust. Without trust, you will never get the best efforts from your workers.
Before making the decision to hire, realize that your workers will depend on you to provide them with work and a reliable income. That's why the leadership traits are so important.
The Hiring Process
You will have to follow federal and state laws that govern the processes of soliciting employees, including advertising, interviewing and hiring.  If you do not follow the rules you may find yourself as the defendant in a lawsuit, or perhaps stuck with a costly and under-productive employee that undermines your business decisions.  These are usually the hardest to fire.
There are many different types of people suitable for house cleaning employment. To ramp up your schedule, you'll need to start with people willing to do part-time work. They may or may not be interested in full-time employment, so you may need to look for full-time workers once your schedule grows.
There are very specific questions that you cannot ask your prospects.  Ask any of those and you could be in trouble if the prospect decides to report you. The questions you can ask should be directed at the skill and experience of the prospect and the qualifications that you have established to perform the job.  Because your new employees will be working in your client homes, it is imperative that you verify information on the application.
Whittle down your candidates and make a list of your first three names, in the order of your number one choice, etc.  Although someone provides you with an excellent interview, you will need to verify their background to justify hiring him/her.
This information is just the start of what you should know to start hiring and employing workers in your house cleaning business. As you can see, making the decision to hire employees takes some research and shouldn't be taken lightly. This decision can affect not only your business, but your clients as well.
What challenges are you looking at in your business to justify hiring workers? Leave a comment and share.
[bannerbox id=22]