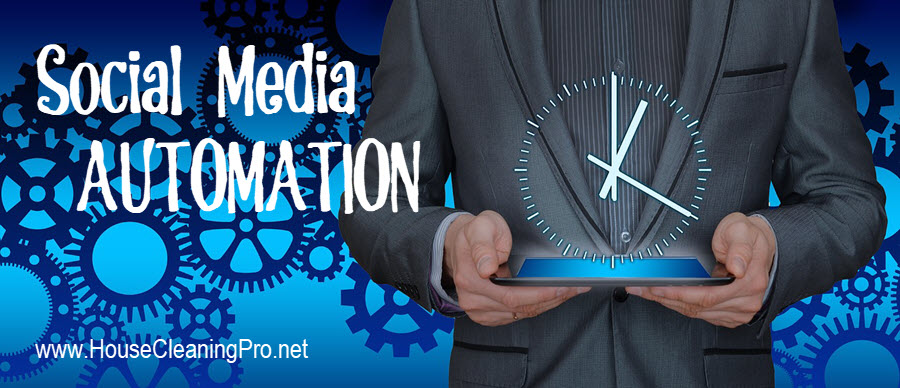 In this post, I'm going to review the current updates to popular networks and why you should be using them. Then I'll show you how to implement your social media so it's working for your business without taking up all your time.
Social media is the perfect way to have your business stay in front of your target audience. There are paid options to get your message in front of specific audiences, but merely posting to your accounts works too, if you know how.
Unfortunately, it can be difficult to stay on top of your social media. There are dozens of platforms, and to be seen on many networks you must update your status throughout the day.
Some networks like Twitter need short, frequent updates. You could easily post 5-10 tweets a day to highlight your brand. Other networks like Facebook are showing content from brands less frequently. This means if you want to up your brand's visibility on Facebook, you need to post frequently here, too.
The best way to manage your social media content is to automate them. When your content is automated, you're free to focus on other equally important tasks like serving your customers, and managing your business.
But social media is different now than it was in the past.
Years ago, you may have had one or two networks that you wanted to post on. Now, it's common for business owners to have 5-7 social networks, all of which need content.
Upgrades in 2018 to Popular Platforms
It's hard to keep up with these networks because they're rapidly changing and innovating. I previously posted on the 2018 updates to Facebook, which you can read in this blog post.
Here's a quick summary of what you really need to know about three of the most popular social media platforms and how to use them…
Twitter
Twitter includes an increased character length. Now, users can post messages that contain up to 280 characters. This increase in length means users can post longer messages and share content more easily.
Twitter is also more focused on video. Uploaded videos can be no longer than 2 minutes and 20 seconds. The company is giving preference to video tweets in the home feed of their users. These videos play automatically, which can help increase your views.
Threads – You may have noticed some people and companies using 1) or 2) in front of their tweets. These numbers signal that the tweet is part of a series or a "thread." With a thread you can provide additional context, an update, or an extended point by connecting multiple Tweets together. Activate a thread by using the plus sign (+) on your post. Click here for more information on Twitter Threads.
LinkedIn
Messages are no longer simply in your inbox. Now they're on your home page in chat boxes. This makes it easier to follow up with a colleague about a project or send a status update to a client.
The "smart reply" is an algorithm that scans your messages and learns how you prefer to phrase your communication. Then the bot suggests three possible responses to messages. So if a colleague asks if you'll be at the meeting on Wednesday, the "smart reply" might suggest saying something like, "Yes, I'll be at Wednesday's meeting, Bob. We can follow up there."
LinkedIn has also begun to display analytics to content you post on the platform. For example, you can see how many views your post received, plus you can also tell other useful data like the location of your viewers, job roles, and more. This helps you refine your posts for your audience.
LinkedIn has also added a native video feature. Previously, if you wanted to upload your video content onto the social platform, you had to upload it to a third-party video site like YouTube. Then you would take the YouTube link and post it in your LinkedIn update. Now, you upload your video directly to LinkedIn.
LinkedIn's search has been improved. Now you can search all of the content on the website and sort it by category. This makes it easy to find what you're looking for and could simplify your connections.
Pinterest
Each post, or "pin," has a shelf life of up to three months. By contrast, a Facebook post has a shelf life of approximately 3 hours and a tweet on Twitter reaches its full potential just 24 minutes after being published.
Pinterest gives priority to the first five pins you post. Those five are distributed widely so you can grow your following and experience more traffic. That means if you have a new blog post you want to promote through Pinterest, don't wait until the end of the day to schedule it. Instead, make it one of your first posts of the day and you'll get a bigger surge of traffic.
Pinterest also introduced the ability to save a pin to multiple boards. This can be useful when you have overlapping boards. For example, you may have more than one board for your cleaning business, such as "House Cleaning," "Commercial Cleaning," "Move In/Out," etc.
Now you can choose the order of your pins and re-arrange them however you like. To get the most out of this update, focus on putting your best content at the top of your board. This makes it easy for users to clickthrough to your website.
Pinterest now allows brands to break their boards into sections. This can be helpful if you need to subcategorize some of your content.
Pinterest appeals to the do-it-yourself (DIY) audience. These users love pinning tips on things they can do themselves, which is good for your audience and gives you a lot of things to post for them.
[bannerbox id=40]
Using Automation to Post
You're busy running your business, so I'm sure you don't have time to sit at your computer creating posts for your social media accounts. That's why I recommend using automation; you can plan your marketing strategy and posts, then schedule them with automation to post on the day and time you select.
You can do this weekly or schedule for the entire month! Here's a few reliable services for you to review:
Social Oomph
Social Oomph is a social media scheduling tool. Originally, the tool was launched as TweetLater. But as the service evolved and began scheduling updates for other social networks like Facebook and Pinterest, the name was changed to Social Oomph.
The advantage of Social Oomph is you can create separate queues based on your content needs. For example, you can create a queue called "generic cleaning tips" with 100 tips.
You can create another queue called  "before and after" filled with your photos of items before and after your cleaning service was performed. Then you create a third queue called "best cleaning products" filled with links to your favorite products.
Each queue will post based on the frequency you set. You might post two cleaning tips an hour to Twitter and one before/after photo to social media every other day. You could set your cleaning products queue to post only once every seven days, allowing you to feature a different product each week.
If you want to get the most out of Social Oomph, create 3-5 queues and fill them with updates. This ensures that you have a variety of social media content being regularly posted to your favorite platforms.
Keep in mind you can pause a queue if you want to. This can be useful for holiday promotions or other events. For example, if you're offering a free webinar on cleaning tips, then you may want to schedule a lot of social media updates to post announcing your webinar and what you'll be talking about.
But what happens when the webinar is over? Simply pause the queue. If you decide to host the webinar six months later, update the links, and then 'un-pause' the campaign and you're good to go. This can save you hours of time when it comes to promotion.
Another fantastic feature of Social Oomph is that it allows you to recycle updates. If you have 600 updates and you want 10 updates posted each day, it will take 2 months for all of the content in your queue to be used. This is one of my FAVORITE functions of any posting tool. This means you don't have to keep creating posts over and over. Instead, input them once and recycle them to post in the future.
With the recycle feature, the content will be posted again when you've run out of content. So at the three month mark, your content is seen again. This can be useful because not all of your followers see every tweet or Facebook post.
To get the most out of Social Oomph, make sure you select the recycle feature for all of your queues. This ensures that your social media accounts are always topped off with plenty of good content.
For all of Social Oomph's features, it does have one glaring flaw. There's no option for Instagram (Instagram serves a younger audience; be sure this is your target market before using it for your business). This means you can't grow your Instagram followers or schedule posts to that platform. However, if you like Social Oomph's other features (and there's a lot to like) then you can combine it with another scheduler that handles your Instagram posts.
I started using this service when it was initially created as TweetLater!
HootSuite
Another social media scheduler is HootSuite. But it's different from Social Oomph in a few key ways. The biggest difference is that instead of creating content in queues, you create and schedule it on a specific date. This means if you want to feature several styles of content each day, you'll need to keep your intended rhythm in mind.
However, the advantage of HootSuite is you can use it to schedule content to Instagram. If gaining Instagram is a key part of your marketing plan, then you'll definitely want to take a look at this social media scheduler.
When you use HootSuite, you'll have several tabs. You can add lists to each tab. So, for example, you would have a tab for each of your social networks—Facebook, Twitter, and Instagram.
On these tabs, you would have a list of scheduled updates, direct messages, and social media mentions. This allows you to monitor your favorite networks in the same space. It can be helpful if you receive a lot of traffic on your social media networks or drive a massive amount of engagement.
You can also bulk upload your social media updates, making it easy to schedule hundreds or even thousands of messages at once. HootSuite also allows you to see your updates on a calendar. This can help you make sure that your promotions and events are scheduled on the correct days.
Another advantage of using HootSuite is that it has a team function. If you have interns or assistants, they can add content to your social media for you. But you can set it so you personally review the content before it's published. That way you can prevent embarrassing typos and other errors.
HootSuite is also known for their excellent analytics features. It's not enough to simply post on social media. If you're not tracking your results, then you're missing out on valuable insights that could grow your brand.
For example, if you post inspirational quotes and funny memes to your Instagram account, how do you know which type of content your audience prefers? How do you know when's the best day to announce a new product?
You don't…unless you have a solid analytics feature that's tracking your audience carefully. That's why professionals love HootSuite. You schedule content, look at your analytics reports and adjust your strategies and content where necessary.
Buffer
Buffer is similar to HootSuite. You can use it to schedule content to appear on your social media networks. However, the tool is much simpler than Hootsuite, but every bit as powerful.
In Buffer, you can create posting times for each day of the week. So if you want to publish content 5 times to Twitter on Mondays and only twice on Tuesdays, you simply add the time slots to each day.
When you create content, you simply click "add to Buffer" and the content will be scheduled in your next available slot. This can be helpful when you have plenty of content to share with your audience.
One of the features of Buffer that sets it apart is that you can create a social media message within their scheduler. But once you're done with the message, you can click "Customize for Each Network." This gives you the chance to share the same message, slightly altered. For example, you have a photo you want to share on Facebook and Instagram.
The only problem is that you have 20 hashtags that you're trying to include on Instagram. You don't want all of those hashtags showing up on Facebook, especially when they're hashtags like "#cleaningofinstagram" or "#instagramcleaning". With Buffer, it's easy to click "Customize" and remove those hashtags from the Facebook update. That way your followers on both networks get an update tailored for the social media platform they're using.
Buffer is different from HootSuite in that it's not designed to be a total replacement for social media. While Buffer will notify you if your post is getting a lot of traction, it doesn't include any way to monitor your replies, mentions, or direct messages. This means you'll still need to manually check each social network and respond to the engagement from followers.
Some marketers enjoy the fact that Buffer isn't meant to replace traditional social networks. By focusing on doing only one thing (scheduling updates), the interface is less cluttered and it's easier to focus within the app.
One area where Buffer shines is it continually helps you find relevant content to post. To get started with this feature, you can enter the RSS address for your favorite websites and blogs. From there, you can choose which blog posts should be sent to your profile by clicking "Add." If you find posts that you know you won't share, click "Dismiss."
It's important to note that as of this writing, Buffer does not have a recycle option. Instead, you access prior posts and submit them again. If this is important to you, then I would select a tool that has that option.
Buffer is a useful app but like other social tools, it does have one obvious flaw: YouTube. You can't use Buffer to schedule and publish your YouTube videos.
Since YouTube is one of the world's most popular search engines, this could really hurt your traffic levels. However, HootSuite does allow you to post to YouTube, so if the video network is part of your traffic strategy, you'll want to use it instead of Buffer.
Socially Inclined
Now that I've given you an overview of what's available to automate your social posting, let me tell you what I use and why…
The platform I was using a few years ago that recycled posts – that means you create a post once and the system would repost it for you according to the schedule you defined. They sold the company and stopped allowing us to upload images – there went my favorite solution! Today, you pay a premium for this feature and not everyone offers it.
I have been searching for a replacement for this platform for a few years. I've used many of the existing platforms, including those I've mentioned here, but none of them do what my new favorite platform does!
The Solution
Socially Inclined does all this and more. Every month they populate your calendar for you with generic posts and images that you can customize. All you have to do is go in and "approve" the posts. Then you tell it which platforms to post to and when. How easy is that?!
You can also create your own posts and upload your own images. This will be handy for you to post your special offers, announce a newsletter, post a recent review, etc.
CLICK HERE and check it out.
Keep This In Mind…
When it comes to scheduling social media content, you're not going to find one perfect tool that meets all of your needs. So, don't be afraid to mix and match 2-3 different social media schedulers. It doesn't matter which tools you're using as long as you're setting and achieving your social media goals.
By using automation to stay in front of my audience, I continually bring in new leads for my business. This is the same strategy you can use to reduce your marketing costs and make social media work for your business.
Have You Planned Your Social Media Success?
Discover how to setup your social media platforms correctly to get traffic for your accounts. Once you have your accounts setup, you need a marketing plan to generate leads. Once you have a plan, you need content to post that engages your audience and encourages them to share.
We can help! Invest in social media to grow your business – CLICK HERE.
blank line