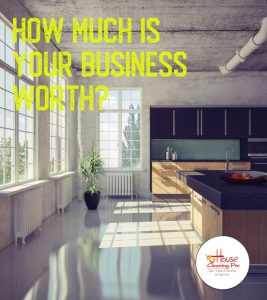 Deciding the value of your cleaning business when it's time to sell is what many small business owners want to know. In reality, the fair selling price of a business is what a buyer is willing to pay and what the seller is willing to accept. Sounds easy, but is it really?
When selling a house, you can access the comparisons on similar properties in your area, along with other factors. When buying a business it isn't this easy, even for two cleaning businesses located in similar locations. That's because no two businesses are alike and could be worth different amounts depending on their configuration and client base.
When making the decision to sell your business, it's best to contact a business broker who can do a professional assessment.
Many business brokers will offer a free business valuation to business owners that are ready to sell their business, especially those businesses with net cash flow of above $100k. These valuations will take significantly more information into account than most business valuation calculators, increasing their accuracy.
Deciding how much your business is worth is vital in maximizing your payout when you sell your business. There are two common ways get a rough business valuation: multiply either your annual sales or your annual profits by your industry's average multiple. Our business valuation calculator will help you calculate both. Read More
I tried a few of the valuation calculators available and thought this one came closest in the options and calculations for a cleaning business. They also have a lot of good information on their site.
Remember – it's fine to use the valuation calculators that are available, but they should be used to get a feel for what your business might be worth – not for setting a final price. As I already stated, working with a business broker is preferred. They will estimate the value of a business, advertise it, and conduct interviews with potential buyers.
Selling a business is much like selling a house as far as your emotions go. Trying to do this yourself will probably not get the best sale as we all tend to sabotage ourselves when our emotions get in the way. That's why using a business broker is beneficial. Let them do the work and make yourself available when necessary to make the final decisions.