One of the best things you can do before you hire workers is to assemble a process for hiring, training, and managing employees. If you think you can  hire subcontractors, research how contractors are managed differently than employees to comply with IRS guidelines before you make the  commitment.
When you hire workers as employees, you can manage them to perform the work the way that works best for your business. Contractors are considered self-employed and perform the work without management oversight.
How to Manage Cleaning Staff
People need to be managed to a standard that you set for your business. This standard needs to be in documented procedures for your employees to reference. With documented procedures, you now have the ability to manage your workers to those standards. Verbal instructions cannot be referenced because everyone has a different memory of what was said.
Most workers you hire will start out doing a good job, but just when you think you can trust their work ethic, their performance starts to degrade. This is when you need an employee management process to:
Document where they need improvement
Reference the issue in your documented procedures
Motivate them to improve their cleaning or work ethic
Monitor their work and review with the employee
This process is achievable with the right documents to record and communicate issues to make the worker part of the process.
The first thing you need to do is create your employee and training manuals. You can't manage employees until they know what is required of them. A good blog post to read is how to develop your manuals.
Before going into managing employees, you might be interested in my blog post on setting up a recruitment plan.
Define Job Descriptions
Employee ads are created based on full job descriptions of each role. Having this information available makes the job posting process easy because you have already defined many of the details that are required to post a job. Job ads should be clear and accurately represent the open position.
Job Description Form – This form is used to define each position to be filled in your business and the required qualifications. It should be created before you interview your first candidate.
Hiring Cleaning Employees
There are many steps to hiring an employee. They start with identifying where you will place your ads, developing the ad itself, processing applications, setting up interviews, making an offer and on-boarding new hires. During this process, you might want to track the effectiveness of the ads you place because not all ads will attract applicants.
Job Interview Schedule – This form records all your interviews for a date. This is helpful when you dedicate a day to schedule as many interviews as you can.
Employee Application – Used for applicants you want to interview. It is signed by the applicant when completed.
Job Interview Questions – This form is used during an interview to record the applicant's response to questions – or – you can give it to the applicant to fill out in advance of the interview.
Job Applicant Review – This form is used during an interview with a candidate to record interview responses and interviewer notes.
Employee Background Check – Each applicant must sign and date the form giving you permission to check their references: perform a background check, contact past employers, contact government agencies, consumer report and credit check and for them to cooperate with the investigation.
Employee Drug Test Authorization – This form is required if you are requiring drug tests. It needs to be saved for every applicant.
Offer Letter – This is a formal letter providing terms of employment as an offer to prospective employees.
Rejection Letter – This is a form letter for rejecting a job applicant. This provides you with formal documentation of the action taken and standardizes the format for all outgoing letters.
Employee Agreement – This form documents the agreement you have offered the employee so there are no misunderstandings. It includes the agreed upon hire date, salary, job duties and responsibilities, compensation, benefits, the business clients and customers, termination, resignation, confidential information and anything else you want to include. This document is signed by the business and the applicant before the job begins.
New Hire Checklist – This form is used when on-boarding new employees to document the signed documents that need to be completed.
Emergency Form – This form is used to record an employee's emergency notifications; a primary and alternate source are provided on the form.
Employee Handbook Acknowledgement Form – This form needs to be filled out for every employee, so you have proof they were issued or have access to the Employee Handbook.
Sexual Harassment Policy – This form is given to each employee and/or supervisors to inform them of your policy.
Employee Orientation Checklist – This form is used when on-boarding new employees to document the items reviewed with the worker.
Hire Tracking – This form tracks the hiring ads you place for you to determine how they converted. It's used to track the effectiveness of your help wanted ads, the conversion rates, and ROI (cost per hire and cost per applicant).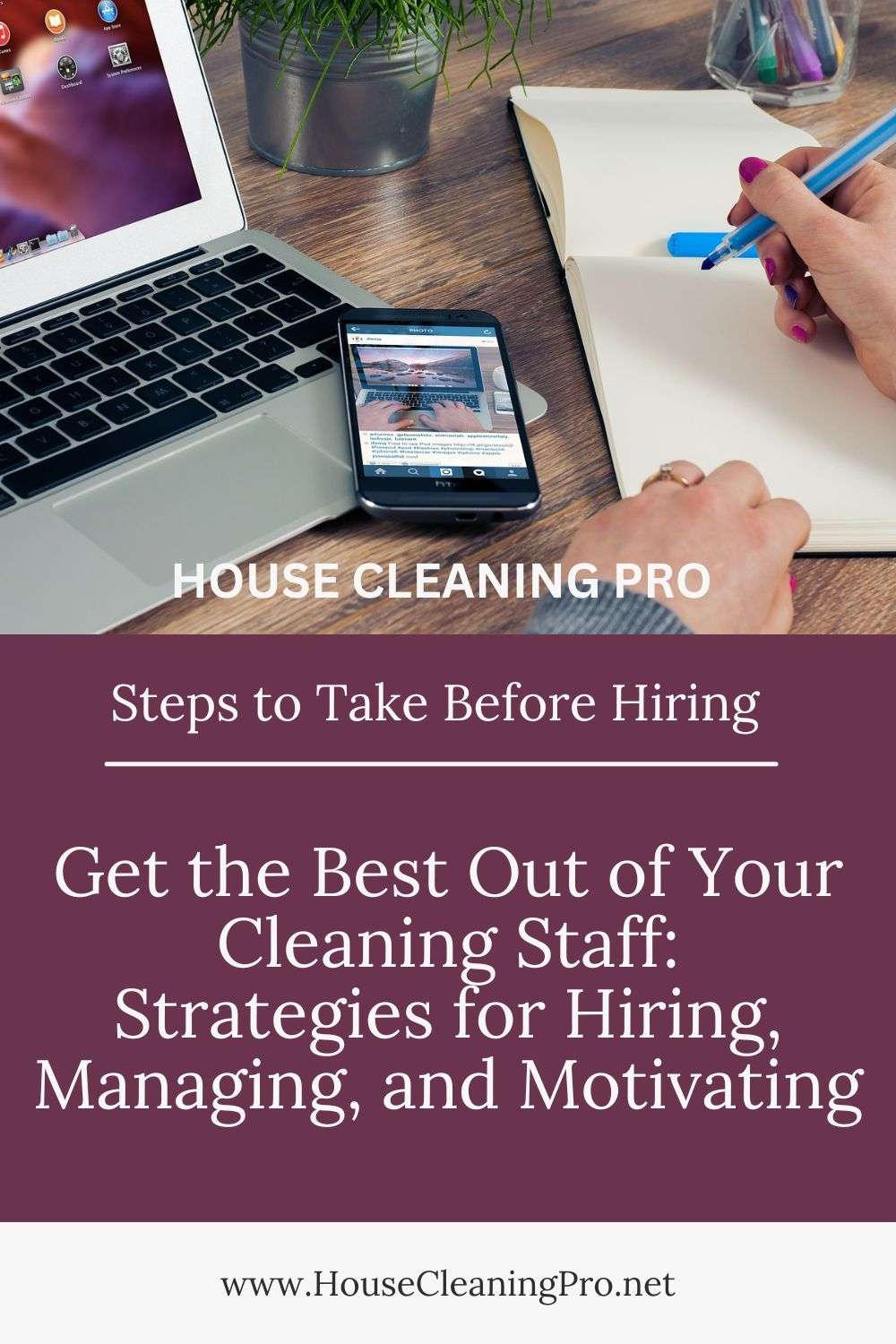 How to Manage Employee Performance
People don't manage themselves and at the same time, some will resent the need to be managed! To make the process as easy as possible, these forms allow you to document reprimands, attendance, and the appraisal process.
Employee Training Form – This form is used to define the training you will do in the different parts of the home. You could create 1 form for the kitchen; 1 form for the bathrooms, etc. You define how you want to score the employees you are training. You could score with points, or you could ensure all trainees score above a rating, such as Good.
Reprimand Form – This form is used to record each reprimand for an employee. These reprimands are then used in the employee review process.
Employee Appraisal – This form is used to prepare for your review with the employee and provides them with a permanent record. An appraisal should be performed on a regular schedule documented in your Employee Manual. This form allows you to document employee accomplishments, strengths and weaknesses, and areas of concern since last review. When completed, it is reviewed with the employee and is used to document the results of the meeting. This form also documents the agreement between you and the employee on the plan for their performance improvement.
Attendance Record – Used to record an employee's absences for each month of the year. You also can record late time and total absences for the year. This information can be used in the review process.
Pay Record – This form is used to record employee pay data by quarter or whatever period you define.
Satisfaction Survey – This form is given to each employee (or group/teams of employees) to obtain their feedback on company procedures and their level of job satisfaction. You can't motivate and keep employees if they are thoroughly unhappy with their work environment!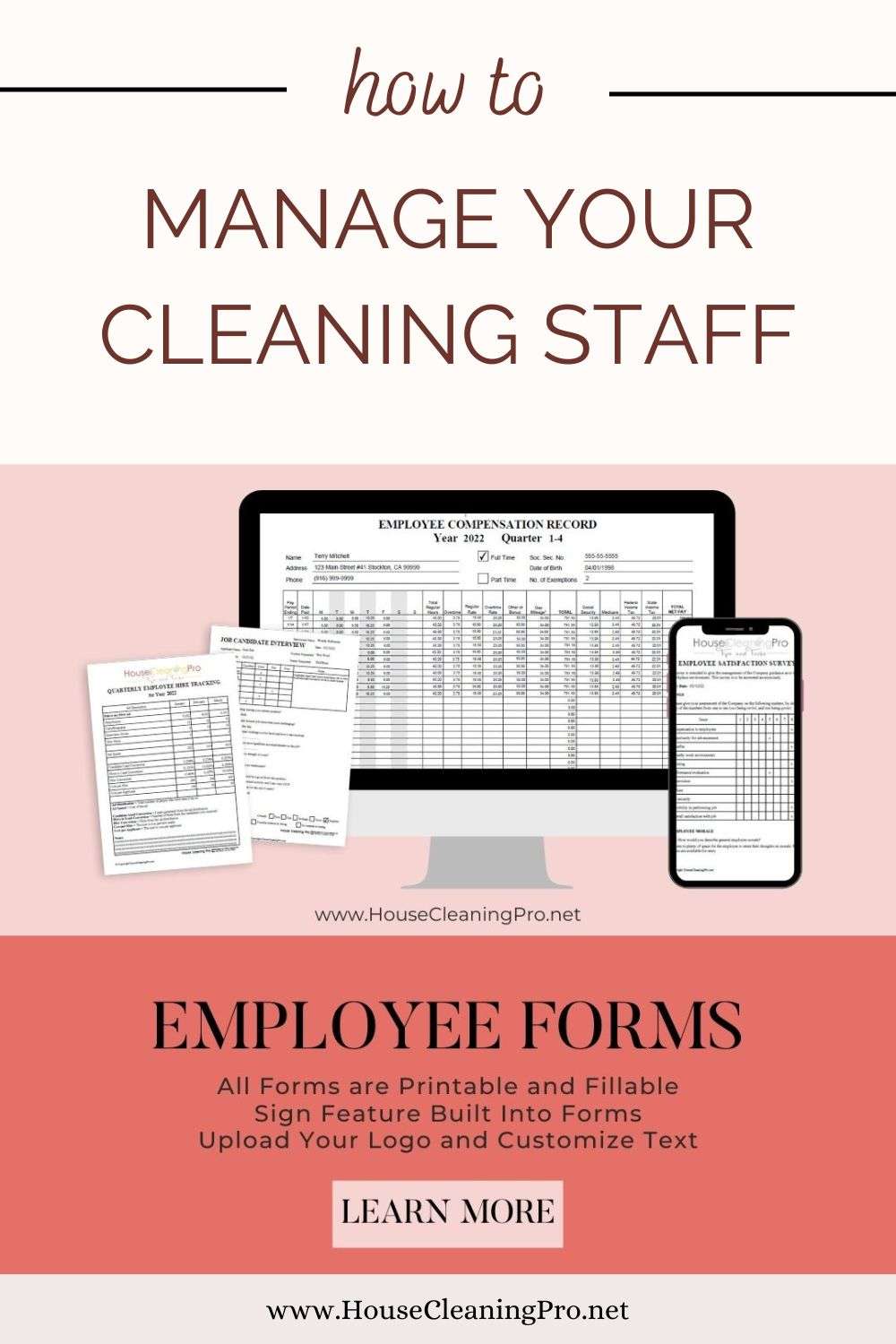 Conclusion
The success of your employees will rest on your ability to manage them effectively. The forms listed in this post meet that goal.
If you want to learn more about managing employees, check out our comprehensive guide on starting a successful house cleaning business. We cover everything you need to know to start and run a thriving cleaning service.