We Can Help!
Includes New Updates for 2022
On your road to a successful business, many issues can arise that need immediate attention.  Many times these issues start creeping up because you didn't take the time to properly research and plan your business. This series of special reports deal with specific issues in starting and running a home cleaning business.  Sometimes, all it takes is a little tweak to make things right!
How to impress your customers and not be "just another cleaner"
How to make a profit cleaning houses
How to make more money in residential cleaning
Tips for housecleaning employees
Understanding what customers really want
What to do when customers expect too much
How to bid house cleaning jobs
Providing estimates over the phone for house cleaning
How to give an in-home estimate for house cleaning services to land the job
The

best

way to let customers know their price is going up
How to "fire" a house cleaning client when all else fails
Getting clients to pay your price for home cleaning
This is a series of seven reports that cover different aspects of starting and running a house cleaning business.
For speed cleaning and hiring/managing workers, click here.
1. Unsure About Starting a House Cleaning Business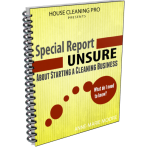 Residential cleaning has the highest market share in the cleaning industry – discover the reasons it continues to grow and review other niches in the cleaning industry.  Many residential cleaning owners add on one or more additional services to their business. Free Report

---
2. Research and Plan Your Business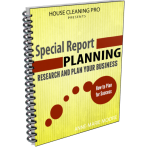 One of the reasons so many people fail in the cleaning industry is because they didn't take the time to research the competition and plan their business for success.

---
3. Identify Your Target Audience and Define Your Business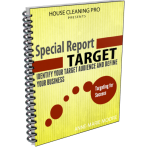 Quickly get your business off the ground or plan to grow your business with one technique many small business owners don't take the time to implement.
Is your business designed to attract the people in the area(s) you're servicing? If not, it's going to be almost impossible to get enough customers to stay in business.

---
4. Advertising – What Works and What Doesn't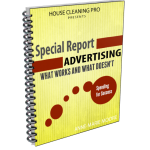 If you are extremely limited with your advertising budget, you'll want to get this report just for the information I provide on using business cards. Getting your message out to attract new customers can be one of the biggest ways your business loses money.
Discover what advertising works today in the house cleaning industry.

---
5. Pricing and Bidding Your Jobs
This is where you will learn how to make a profit cleaning houses by setting your rate correctly, knowing what motivates customers, and I take you step-by-step through the bidding process so you know how to do an estimate for house cleaning. By knowing exactly what your customers want, you can set a rate that will allow you to make a comfortable profit and grow your business.

---
6. Business Forms and Prospecting Script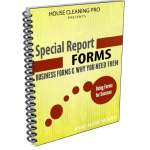 Anybody can sell themselves as a house cleaner, but it's the businesses that use professional forms who get the best jobs – the ones that pay the most, allowing you to work in the nice homes in nice areas of your city.
This report includes the script used by the House Cleaning Pro to land 98% of of the jobs bid using the right business forms.

---
7. Products and Equipment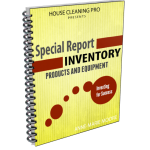 Cleaning for others is not the same as cleaning your own home and that's even more true of the products and equipment you will need.  In this report you are introduced to all the products and equipment needed to perform a professional house cleaning.
Are you spending money on the wrong products? Are you running into trouble using your client's products and equipment?

---
8-9-10. Hiring and Managing Employees & Workers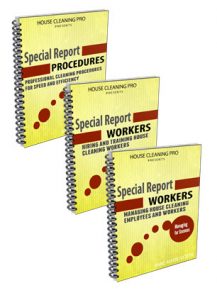 When you're ready to grow your business, you'll need to hire workers to do the cleaning for you. This is the only way you can increase your earnings. Doing all the cleaning yourself, you're limited to the number of houses you can clean in a month.
Do you need to know how to standardize and create processes in your business so you can hire workers? Then you might want to look into my House Cleaning Pro Business-in-a-Box to start and grow a cleaning business.
There's more to hiring and managing workers than you can ever imagine. Before you try and deal with all the issues, make sure you know what to expect and make sure you do it right the first time. Click the button to get started!