4. Advertising – What Works and What Doesn't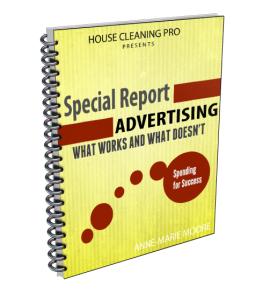 There are many different ways to advertise, but not all of them will work for your business. 
That's because there is no exact science to advertising; it's different for every industry.  And the only way to know if a method is working for your business is to track your ads and the return on investment.
If you are extremely limited with your advertising budget, you'll want to get this report just for the information I provide on using business cards – an economical way to start your advertising when you know how to use them effectively.
Avoid losing money on the wrong, ineffective advertising.
Inside this 21-Page Report:
What NOT to list  on your business cards
The key to being successful with flyers
Effective ways to distribute flyers so they don't become the neighborhood trash
What gets a higher response rate than flyers
What to ask BEFORE investing in coupon mailers in your city
Why glossy print advertising is risky
Why you DON'T want to use a first-time discount with this "little known" type of advertising
How to get your flyers distributed with no up-front cost in your city
Why you DON'T want to use permanent signage on your vehicles
How to get more clients in all your neighborhoods while you work
Why this one common form of advertising should not be your ONLY advertising
How to use a press release effectively for FREE advertising
How to turn a failing ad into a successful ad
Why designing your own website could be a waste of time


Use coupon code TODAYONLY for a special discount!