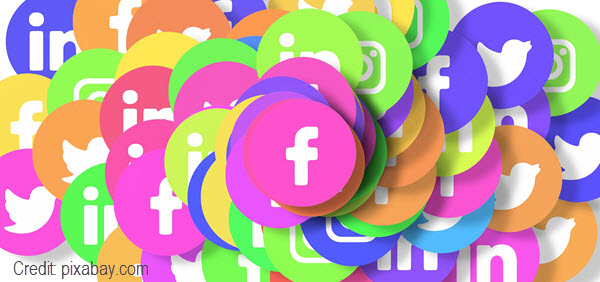 Social media platforms are where everybody goes today to get their news and to validate a business. That's because it's fast and convenient. Many people don't have time to wade through long articles – they want sound bites that are easy to digest. And that's where your business page comes into play.
How to Use Social Media For Your Small Business
It's not optional anymore – its required just like the Yellow Pages used to be years ago. You need it, but you have to use it correctly or it's just a waste of time. Use it wisely to inform and engage your audience and don't get sucked into spending copious amounts of time on pages and posts instead of your posting tasks.
1. Post articles, videos, and photos that your audience can appreciate.
Although you may think they want to see the before/after images of the dirty toilet that now sparkles… uh – I don't think so. You can create an album of your before/after images, but keep it focused primarily on the outcome. People have a hard time relating to other people's dirt.
Your social media page(s) is also a good place to show your customer appreciation. Using an image quote like this is sure to get positive attention and shares! CLICK HERE to see more you can use in your business.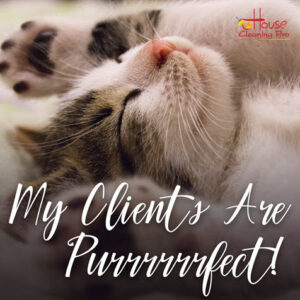 2. Make a commitment to setting goals for your social media.
I see so many businesses create a page and then leave it half done and longing for attention. If you started to provide information about your business, then make sure it's complete – don't leave people hanging. And don't start your page and then leave it stagnant; that's not professional.
And don't use your personal profile as your "business page." To be perceived as a professional business, you need to keep these separate. Nobody wants to go to your business page and see your posts about last night's party. Your business page should promote the business image you want people to remember when selecting a residential cleaning service.
3. Develop a social media goal and strategy.
Set goals just like you do for your business. A goal can be to post twice a day, every day. Have a strategy to meet that goal.
For instance, it's going to be inconvenient for you to post twice a day if you're cleaning houses. Research how you can automate this with a service like Buffer, Hootsuite, or even just schedule your posts within the social media platform you are using. Having your posts planned in advance gives you valuable time to spend on your business instead of worrying about social media. The only thing you should be doing daily is replying to comments left on your page.
4. Focus on the best social media network for your target market.
You're going to be wasting your time posting videos to YouTube if your target market doesn't hang out there. You want to be where they are so you're right in front of them.
Today, everyone validates a business with Facebook so that should be your starting point. Scroll down this page for the chart on social media users and which platforms they use in this article on buffer. Don't spread your time between too many platforms until you have your strategy in place.
5. Batch your work when planning your strategy.
Batching your work is a time-saving strategy to get as much done as possible performing repeatable tasks. So when you plan out your posts for the week, do them all at one time. This provides you with the benefit of focusing on a theme, holiday, or season to select similar posts to keep your audience engaged. An example of this would be spring – by concentrating on spring being just around the corner, you could provide your readers with content to keep them coming back.
6. Do this for ideas.
Do you know what your competition is doing on social media? Follow them and other leaders in your community including other businesses that service the same market as you. You can get a lot of good ideas of what to post and not post using this technique.
7. Use a content calendar.
A content calendar is a simple and easy tool for planning out your posts for the week/month. As outlined above, take those ideas and transfer them to your social media content calendar. Now that you have everything planned out, all you have to do is schedule the posts.
Download this FREE – Fillable – Social Media Content Calendar
This is a zip file – Click Here for instructions to open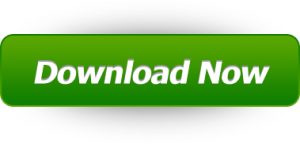 8. Monitor your pages.
As I already mentioned, you don't want to spend a lot of time on social media. Get in and out as quickly as possible or you'll discover yourself wasting a lot of time. Check your page(s) daily for comments and complaints.
You'll want to recognize comments and answer any questions that were posted. Don't let a day go by – this has to become part of your daily schedule. And don't argue with people who leave complaints. Acknowledge them and take it offline when you can. The worst thing you can do is miss a day and leave a complaint hanging.
9. Track your progress.
Facebook, Twitter, and other platforms make it easy to track the audience activity on your page. This is important because you want to know what your visitors like so you can give them more of that type of information:
Facebook – Use "Insights" at the top of your page. You can slice and dice the data in many different ways. What you should look for is "Reach" and "Engagement" on your posts. This will reveal what your audience likes to consume.
Twitter – Click on "Analytics" on your profile dropdown. You'll get information on your top tweets and various statistics for the current and prior months.
Having a plan to present your residential cleaning business in a way that promotes your mission statement is very important. It also makes it easy for you to stay on track. Don't try to be something you are not. Stay true to your business plan and use your social media platform to convert visitors into new clients for your business by building trust.
Plan Your Social Media Success
None of this is difficult, but it can be time-consuming to get your plan setup and to find things to post. Let me help!
Use my Social Media Content Templates to setup your strategy and your plan and SAVE TIME. I've also included 68 quote graphics and 319 generic posts you can customize for your business. With this package, you can get your selected platform setup quickly, the right way, and start posting your content.