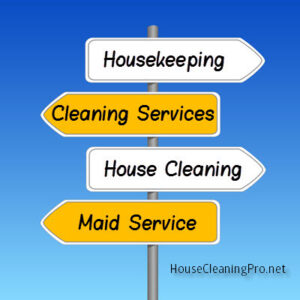 One of the most important items in starting a residential cleaning business is the selection of your business name. Choose the wrong name and you may be getting the wrong types of calls. Choose the right name and your phone could be ringing off the hook.
Once you have defined the type of cleaning business you will build, you can concentrate on the appropriate name to reel in those customers you have identified as your "ideal target market." What type of advertising will they respond to? What types of advertising is currently available that have the same target market as you? This is important and worth the time it takes to do the research. For instance, if you are offering the cheapest service in your city and you want people to know this, look for advertising that is based on price. There are plenty of examples available, such as fast food restaurants, budget movie theaters, pest control services and plumbing.
But how do you know if their advertising is working for them? Well, that's easy! If you see ads that are running for a long time, you can bet their ads are generating new customers and the money it takes to run them.
One thing you need to know up front is that you cannot copy someone's advertising, but you can use it as inspiration for your own.
Going with our sample business that is going to advertise based on price, think of appropriate business names that will identify your specific niche at-a-glance. To do this you can use a thesaurus by using different base words to find others that convey a similar meaning. This would include words such as cheap, cheaper, cheapest or bargain or budget or competitive. From these ideas, make a list of sample business names – don't worry about them making sense at this point, just keep writing.
Once you have all your ideas written down, it's time to analyze them to see if any are appropriate for your business. Your house cleaning business name will be used in all your advertising and it will represent you and the service you provide. Also consider the business names of your main competitors – what comes to mind when you see their business name? How does it relate to what you know about the business? And what do you assume about them without being intimately familiar with the work they do? Does their business name make you want to call or does it convey something else? What attracts you to a business when you are researching an industry when you need service?
Critical Information to Plan Your Business
Research and planning are the keys to building a successful business. Discover the steps you need to take for successful research, including how your competition will help you plan your business and how you get them to share proprietary information.
To Read Next: