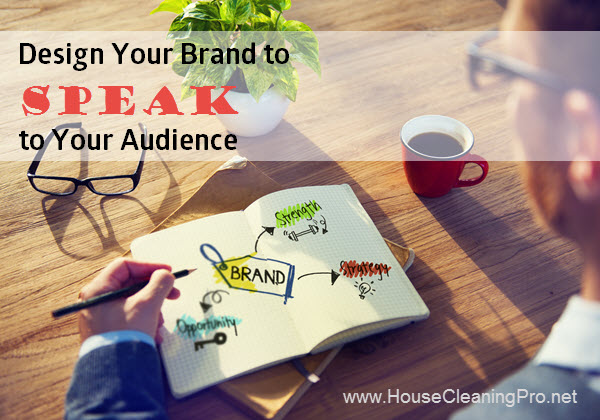 One of the most important components in a successful business launch is your business brand. This is done through a USP (unique selling proposition). Without a USP, your service will fade into the shadows, struggle to compete and leave an everlasting impression in the minds of your customer base.
U.S.P means your Unique Perceived Benefit and the meaning is simple – it's the most powerful, dynamic, unique and important benefit of a customer using your service.
It's the core of what makes your business different, and why someone should purchase YOUR service over a competing cleaning business.
In other words, it can essentially "make or break" your business, and its chances for long-term success and growth.
The good news is that your service already has a USP, you simply have to identify what that is, and highlight it in your sales pitch and marketing campaigns so that becomes an instant brand of your overall brand.
It all begins by evaluating your service objectively.
Start by asking yourself:
• How can it improve someone's life?
• How can it help your customer?
• What does it offer that other services fail to provide?
• Is your service easier to use than other services on the market?
Your USP Must Speak to Your Target Audience
Before you can create your USP, you need to know your target audience. What is most important to them? What are they struggling with the most? How can you truly connect to your target audience? What is their greatest challenge?
The closer you know your audience, the easier it will be to develop a USP that means something to them, and when you do that, you are able to touch down on what they are most passionate about, and what will generate a positive response, and positive responses equal profits!
For instance, if you are servicing a senior community in your city, think about what they need and why they are hiring a house cleaning service. Do they need housekeeping or deep cleaning? I wrote a blog post on servicing this community – you can read it here.
If you have a lot of families in your service area, you will need to know what their needs are. Many of these clients want you to clean before or after their kids are down for a nap. And they won't appreciate you being in the home when the children come home from school. What other needs do they have that you can fill?
[rectanglebox id=1]
If you're cleaning in the city with high-income city dwellers, they also have unique needs. You will need a unique USP that speaks directly to them.
Each of the three types of customers above will need to have a unique USP on your marketing materials to speak directly to them. If you can develop one that covers all their needs – all the better!
Creating a USP
When creating your USP, think from your customers perspective, so that rather than identifying what you feel is most important about your service, or what message you want your customers to know about your service, you turn it around – and instead, focus on what they want to know and feel is most important to them.
There are many different strategies for creating a USP for your service. Dan Kennedy's method for identifying a USP is in answering the question, "Why should I choose to do business with you versus your competitor?"
The very reason why you created a service in the first place could hold the key to defining your USP. Think about how your service is different than others on the marketplace, how does it add more value? How does it address a question, concern or simplify a process, such as providing your own products and equipment, saving your customers time or money.
Your service USP is the driving force behind defining value and creating a recognizable brand in your market. There are businesses who have so carefully highlighted their USP that they are able to charge DOUBLE what their competitors charge, and still sell out their products every single time!
One of the most well known examples of an effective USP is Dominos Pizza. The business, struggling and close to filing bankruptcy needed a quick turnaround. Hence, the USP, "Fresh, hot pizza delivered in 30 minutes or less or it's free" was coined.
Then there's Burger King who, competing against the McDonalds franchise giant had to stand out from the "pre-made fast food service," and successfully did so by coining the USP, "Have it your way" where customers are able to customize their meals based on their preferences. They put customers in control, and the USP was successful at helping them stand out because no one else was doing it the exact same way!
Other competitors in the pizza delivery business jumped on board, integrating powerful USP's into their marketing campaigns, including Papa John's restaurant whose USP promises "better ingredients, better pizza."
All of these businesses had existing competition yet became successful national franchises that are instantly recognized in their industry. They did this with the help of a powerful USP that made a clear promise and worked to align their brands with delivering on that promise.
Your USP will differentiate you from your competition; more than any other aspect of a marketing campaign ever will, but you need to make sure your USP is not only memorable, but believable.
Using Federal Express as an example, their USP is "when it absolutely, positively has to be there overnight," emphasizing their guarantee of prompt delivery service. "Absolutely, positively" reinforces that promise, adding extra punch to their USP.
You want your USP to clearly define your brand, separate you from the competition but it must be believable!
The USP for House Cleaning Pro
I started House Cleaning Pro back in 2004. Back then there wasn't much competition.
I had one competitor who had been publishing their house cleaning eBook for about a year and it was based on doing the cleaning yourself. He did not hire workers and he knew nothing about team cleaning. He went on to expand into this area after my product was published, although I know it wasn't based on his experience because I had purchased his eBook and had read his history. I always tell people to make sure you know who you are buying from to ensure they have the knowledge to accurately provide the information you are buying.
My other competitor was selling a huge package based on the franchise model, without the fee. He was selling a system, similar to my Business-in-a-Box today, but at three times the cost. There was so much information I could see it would take the novice forever to get through it all just to get started because it was all in audio format.
That's when I came up with my USP, "Tips, Tricks & Secrets to Success." That's what people wanted and that's what I was giving them – all my tips, tricks, and secrets. I included everything I had developed and designed for my business, cutting out the trial and error the customer would have to go through without my information.
What a USP Can do For Your Marketing
In today's marketplace, your business will struggle to stand out from the crowd without a USP. You need it on your advertising and marketing pieces to give that extra boost it needs, so that it instantly offers an added incentive for prospects who are making the decision between purchasing your service or your competitors.
Take your time when developing your USP. Think of ways that you can add unique flare to your service, how you can use your USP to demonstrate value, to illustrate performance, and to showcase the distinctive benefits of your service.
Join my House Cleaning Business Mastermind group and download my FREE Build Your Brand Worksheet to build your brand.
Your USP should be described in a couple of sentences. You want to keep it short and to the point so that it lends "stickiness" to your campaigns and becomes quickly (and permanently) associated to your brand.
Once you have defined your USP, you want to include it in every single marketing campaign. From newsletters, ezine advertisements, social media marketing, forum marketing, PPC advertisements, to your website itself.
Does all this sound very difficult? I can help with that!
My Business-in-a-Box cleaning business starter kit has everything you need to start or upgrade your business. From doing the research (with forms I created), to planning your business (with forms I created), and providing the service (with forms I created). You can have a professional house cleaning business up and running in no time with minimal cost.
Start a House Cleaning Business – cleaning business starter kit and blueprint.

[bannerbox id=33]