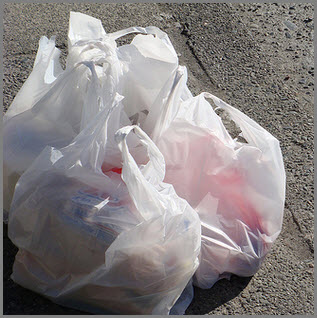 There was a time when we used paper bags – and then we became concerned about saving the trees.  That's when plastic bags became popular and we thought we were saving the environment.  Now we need to be saved from plastic, itself as we learn more about BPA – bisphenol A.  BPA is primarily found in polycarbonate plastics and epoxy resins and is safe at low levels, according to the FDA.  Polycarbonate plastics are used as a lining in containers that store food and beverages.
With an over-abundance of plastic bags that we bring home from shopping in local stores, what do we do with them?  I try to reuse them as much as possible before I send them off to the landfill where they seemingly live forever.
Cooking Garbage Bag
When I cook, I place scraps of food in plastic bags and then place it outside in my trashcan.  This keeps my house trashcan clean, eliminates odors, and also keeps my outdoor trashcan clean.
Bags for Cleaning
Plastic bags are perfect for use in your cleaning business.  Use them as your dirty bag for storing rags you've already used; use them to store dirty mop heads; use them as a bag to carry your clean rags; use them to separate your microfiber rags from your cotton rags.
Reuse at the Grocery Store
The last thing I want to do is bring home more plastic bags, so I store a lot of them in the trunk of my car to be reused at the grocery store or anytime I need a bag.
Trashcan Liner
Instead of purchasing more plastic bags to line your trashcans, try using the free recycled bags.
Vehicle Trash Bag
No need to spend money to purchase a designer trash bag for your vehicle.  Store extra bags in your vehicle to use as trash bags.  You can even hang one over a seat so it's handy to use.
Donate the Bags
Charity organizations such as thrift stores can use the bags; consider donating them.
Travel Bags
Recycled plastic bags come in handy when you're packing for a trip.  Use them to pack shoes to keep your clothes clean.  They're also handy to store your dirty clothes.
Packaging
When wrapping presents or boxes for shipping, use the plastic bags as cushioning, instead of purchasing the packing peanuts, etc.  Just scrunch them up on the bottom of the box, insert your item, then surround with more scrunched plastic bags.
Empty Your Vacuum
If your home vacuum does not use vacuum bags, empty the contents into a recycled plastic bag and place it in your trashcan to keep your trash clean.
Doggie Bag
Plastic bags are a convenient way to pickup your dog waste and store it in the trash to prevent odors.
These are just a few ways I reuse my plastic bags.  Read more here…
And of course, once you recycle your plastic bags, invest in reusable shopping bags so you can avoid some of the plastic in the future.  This is also a good way to help local businesses save money and let them know you don't want plastic anymore.
Leave a comment and share how you use your extra plastic bags.