8. Professional Cleaning Procedures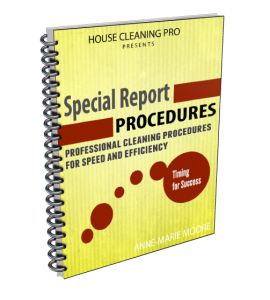 New Updates for 2022!
Step-by-step instructions for cleaning everything in the home divided between the dry and wet work.  These procedures enable you to move swiftly through the house in the most efficient manner.
Most importantly, these procedures ensure you and your workers don't miss anything as you move from one room to the next.
With the right plan to move through the house, you will avoid backtracking, accidents, and customer complaints.  Customer complains are usually triggered by not having this plan and using it.
Blank Line
Inside this 32-Page Report:
What to do on the FIRST appointment to make your regular cleans easier
How to divide the work for efficiency
Where to start and how this makes your job easier and faster
How to use your rags to reduce laundry
Reduce scrubbing time with this one technique
How to prevent clients from calling you after the appointment with "I can't find" questions
The most important "rule" to remember to reduce breakage and damage
How to move through the house to reduce cleaning time
This procedure will eliminate missed areas of the room
Fool-proof window and mirror cleaning – preventing streaks and cloudy areas
How to prevent pictures from falling down while you are cleaning them
The "trick" to getting nasty toilets clean without passing out
How to clean the laundry room to surprise and delight your clients
How to clean an oven and avoid the left-over residue the client sees after you leave
Pros/Cons to cleaning flooring by hand
Things "the other" cleaning services forget to do – this will get you plenty of referrals!
EXACT, step-by-step cleaning procedures for EVERYTHING in your client homes.
Included with Your Purchase:
Cleaning Business Checklist – Digital Form
Cleaning Routine – Time Tracking Digital Form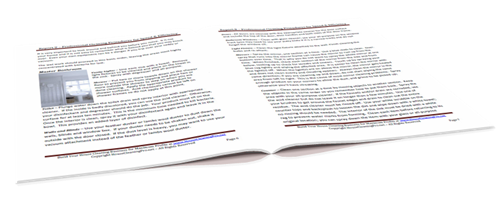 Save Time – Book More Jobs – Earn More While Producing Quality Work!

<< Instant Access >>