5. Pricing and Bidding Your Jobs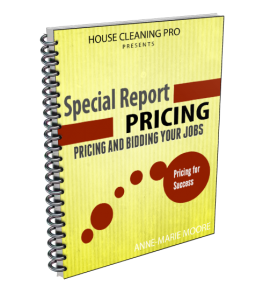 New Updates for 2022!
This is where you will learn how to make a profit cleaning houses by setting your rate correctly and knowing what motivates customers. 
By knowing exactly what your customers want, you can set a rate that will allow you to make a comfortable profit and grow your business.
Now that you have your rate, I take you step-by-step through the bidding process so you know how to do an estimate on house cleaning by square footage, by number of rooms, inside the home and over the phone.
You'll know exactly how long it should take to clean a house by its square footage so you don't under-bid, especially when you're just starting out.  This is also extremely helpful if you are finding it difficult to give accurate bids.
Included: 

Script used by the House Cleaning Pro to land 98% of the jobs estimated

blank line
Inside this 25-Page Report:
What Motivates Consumers to Give You the Job
How to Set Your Hourly Rate to Earn What You Want
Average Cleaning Times by Square Footage
Precise Estimating to Get You Started
How to "Sell" Without "Selling" to Get the Jobs
The Phone Interview Process to Reel Prospects In
The Phone Interview Questions to Qualify Prospects and Weed Out the Deadbeats
My EXACT Bidding Process (Clients Loved it!)
Step-by-Step Bidding Details for Accuracy
How to Inspect the House to Avoid Insulting the Prospect
What to Look For During the Inspection to Justify Your Bid
Steps to Reviewing Your Bid With Your Prospect to Get the Job
Negotiating Your Rate – Pros and Cons
How to Schedule Jobs Without an In-Home Estimate
How to Identify and What to do About Price Shoppers
Scheduling In-Between Jobs to Make Even More Money
Why Revealing Your Rate Too Soon Will Lose the Job
Included with Your Purchase:
Estimating Calculator by Hour (Excel spreadsheet)

If You Can't Sell Your Services, You Can't Make a Living! Invest in this Proven Selling Method that Converts Leads Into Customers

<< Instant Access >>