7. Products and Equipment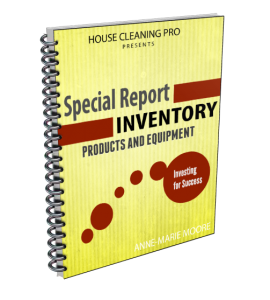 New Updates for 2022!
Cleaning for others is not the same as cleaning your own home and that's even more true of the products and equipment you will need.
In this report you are introduced to all the products and equipment needed to perform a professional house cleaning.  You will learn the difference between cleaning products you find in the supermarket and box stores and superior cleaning products that will actually save you money.
Also included are the extras you need to run your business, such as how to carry your forms, calculator, pen, house keys, how to transport your chemicals and rags, and lots of tips for using and purchasing your inventory.
With this inventory list, you have the basics to make decisions on brands, green cleaning, and how to use buying power to reduce your costs.
Inside this 36-Page Report:
How using the wrong cleaning caddy could lose you clients
Using this type of store for your cleaning products may generate client insurance claims
How to select cleaning products that will leave a natural shine in your homes
Why your products should not contain this one ingredient
The best disinfectant for use in the kitchen to save you time
Why you should have a separate heavy-duty disinfectant
This product will soften any old dirt and grease
How to select lemon oil that will not leave a cloudy residue
Why you should use your client's ______ and not yours
How to select hand pads that will not damage your client's surface
A surprising restaurant supply product that is more effective than others inside the bowl
An inexpensive product used in the construction trade works wonders in house cleaning
How to make sure your workers don't ruin client homes with the wrong products on the wrong surface
Using the wrong plastic bottles could cost you clients and $$
How to use fragrance to reduce excessive product use
What to know before using wax, oil or polish on good wood furniture
Adding this one "extra" to your vacuum cuts down on cleaning time
Why janitorial cleaning products are not used in client homes
Vacuums – Mops and more!
Included with Your Purchase:
Cleaning Business Checklist Digital Form
Cleaning Routine – Time Tracking Digital Form

Discover the Products and Equipment That Will Make Your Cleaning Business Superior by Investing in Quality Brands to Service Your Clients

<< Instant Access >>