3. Identify Your Target Audience and Define Your Business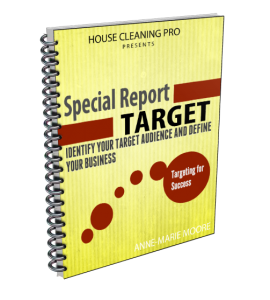 New Updates for 2022!
The easiest way to attract customers for your house cleaning business is to give them exactly what they want!
You can't do that unless you identify the customers you want to service and where to find them.  Then it's easy to create your marketing to speak directly to them.  This is how you get clients who are willing to pay what you charge.
Quickly get your business off the ground or plan to grow your business with one technique many small business owners don't take the time to implement.
Inside this 16-Page Report:
The Type of Cleaning Business to Build to Avoid Burn-Out
Why You Need to Setup Your Business with Requirements and Guidelines
The Best Way to Present Your Requirements and Guidelines to Prospects
How to Make MORE Money on Your Busiest Days
The Best Number of Team Members for Quality and Efficiently
How to Avoid Getting Fined by the IRS Because You Hired the Wrong Workers
Why You Don't Want to Use Your Client's Products and Equipment
How to Recoup Your Expenses on Products and Equipment
How to Reduce Vacuum Time with One Simple Change
Why You Need to Avoid "Newbie" House Cleaning Clients
Where to Find Prospects Willing to Pay for Your Service
How to Identify the BEST Customers for Your Business
An Overlooked Source of Prospects When You First Start
Free Advertising That Brings in the BEST Customers
The FASTEST Way to Grow Your Business – What Successful Businesses Know!
Included with Your Purchase:
Cleaning Business Checklist
Top 10 Business Tools

Don't Make the Mistake of Thinking EVERYONE is Your Customer – They're Not! Once You Know Your Ideal Customer, Marketing to Them is EASY

<< Instant Access >>