2. Research and Plan Your Business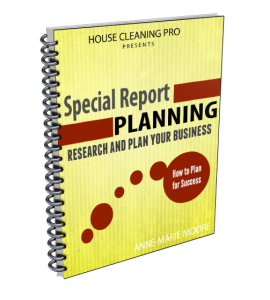 New Updates for 2022!
One of the reasons so many people fail in the cleaning industry is because they didn't take the time to research the competition and plan their business for success.
I tell people all the time… EVERYONE wants their house cleaned, but not EVERYONE is willing to pay a decent fee to have you do the work.
With proper research, you can find these people who are willing to pay and then structure your business accordingly.
This is how successful businesses planned for their success!
Inside this 19-page Report:
How Your Competition Will Help You Plan Your Business
What You Need to Know About Your Competition for YOUR Success
How to Get Your Competition to Give You Proprietary Information
How Your Business Name Can Get You MORE Prospects
How You Setup Your Phone is Crucial to Your Business Success
What a Business License is and How to Get It
The Insurance You Will Need and Why
Where to Get Insurance Locally
Why You MUST NOT Use Your Home Address
The Legal Entities that Affect How Your Business is Established
The REAL Reason You Need a Business Plan
The reason why

everyone

is not your customer

What NOT to do When Creating Your Business Plan
How to Define Your Target Customer and Why this is Important
Forms Included with Your Purchase:
Sample Business Plan
Business Legal Entities Comparison Chart
Business Names Form
Competition Analysis Form
Competition Research Form

This is one of the most important steps in starting a business! Research and Plan Your Success in Your City<< Instant Access >>