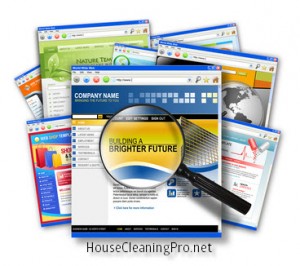 Today you can't afford to start a business without a website!  I couldn't say that when I first published the House Cleaning Pro.  Most of my website visitors had a hard time just getting my emails, let alone knowing how to build and maintain a website.
In recent years, having an online presence has become much easier. There are many hosting companies that provide software for you to build and run your own site.  You can even start a free blog with Google using their point and click software.
Do you have the time and the expertise to build your own website or blog?
Just being able to build it isn't enough.  Today, you need to know about keywords and how they are used to get Internet visitors to your site.  You also need your website to be responsive to to the type of device your visitor is using:
Desktop
Tablet
Smartphone
Personal Digital Assistant
Cell Phones
Laptop
This means the screen size and how the information is displayed will be automatically adjusted by your website. Trust me, many people have built a site and ended up with just a big pain they wish they had never started.
You Don't Need to be a Billboard in the Middle of the Desert!
And that's just what your site could be if it's not built correctly.  You also need to know how to market online to attract the people in your city who want what you offer.
That's why I have included a FREE website in my Business-in-a-Box blueprint.  There are over 38 website logos for you to choose from. No setup fee – no additional costs to customize the template you select. Once it's ready, you can include the website address on your business cards, flyers, advertising, and social media pages. Setting up Facebook ads is another way to get targeted traffic from your local community to your new website to generate prospects and new business.
Just what you need when you start your house cleaning business – a professionally designed business website to quickly generate prospects for you.
Get a FREE Website
With the Business-in-a-Box
Everything you need to start and grow a house cleaning business is included in our Business-in-a-Box.
Your website uses a premium WordPress theme to grow your mailing list, provide an instant quote, schedule appointments, and collect testimonials.
blank line
Basic Customized Website
Maybe you don't need the Business-in-a-Box at this time. If all you need is a good website, you can order that separately. It's the same design and platform used in the Business-in-a-Box. We charge a basic price for it along with the build. If you need more customization and functionality, we can do that too.
Just place your order here and then open a ticket at the Support Desk for the additional work you need. We will be happy to provide you with a quote.
Basic Customized Website

blank lione
To Read Next: