Business Continuity Planning and Emergency Planning
Who They're For: Independent cleaners and businesses with workers; appropriate for new or existing businesses.
What They Do: Provide you with the latest information on protecting your business
Why You Need Them: To protect you and your business in case of an emergency
What would you do if you didn't have access to your customer list?
Could you recover if someone hacked into your bank account?
What would you do if disaster struck your city and your home or business office was wiped out?
These are real issues that could wipe out your business if you don't have a contingency plan in place.
There are two types of events that you need to concentrate on:
Resuming business after a natural disaster (fire, flood, theft)
Storage and recovery of digital information (viruses, hacking, etc.)
There are simple and effective strategies you can implement right now to start protecting your business.
Download this FREE report to discover

risk areas

in your business

 
Blank Line
Create Your Disaster Recovery Plan
Don't just read about where your business is at risk – you need to implement the information in the free report… and more! If you're like most business owners, you don't have time to figure this all out on your own. You have a business to run.
That's why I've created a full system for you to use. It's simple – just fill in the blanks.
Once you have your system created, you're covered. If you ever have to use it, all you will need to do is follow the information you have already defined and put away in a safe location.
Here's Exactly What You Get:
1) Tutorial Summary – Added Section to FREE Report
Preparing for Disaster Planning
Business Continuity
Tips for the Business Continuity Plan
Caution When Creating the Continuity Plan
Disaster Recovery Plan
Tips for the Disaster Recovery Plan
Caution When Creating the Disaster Plan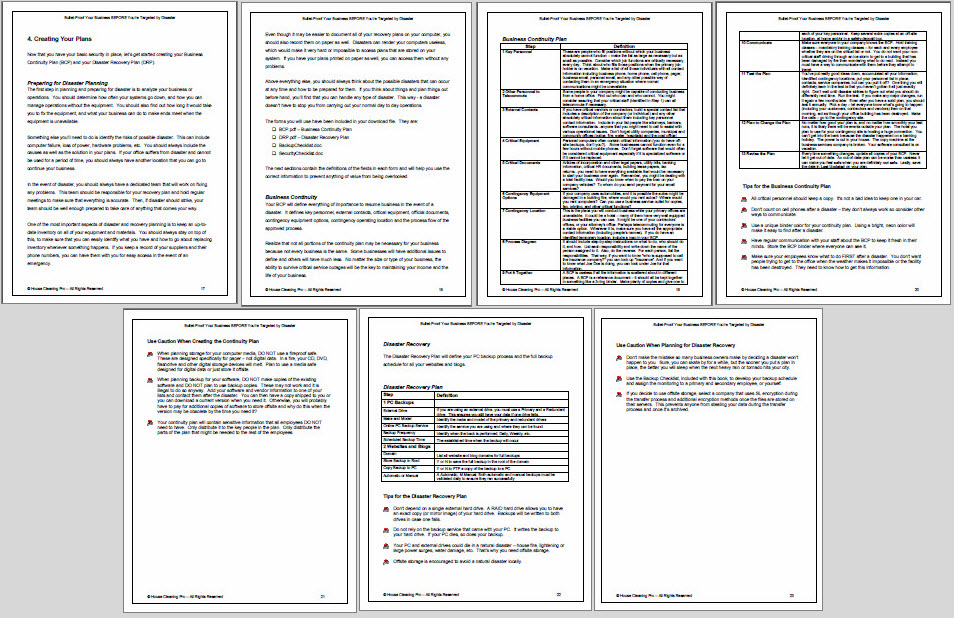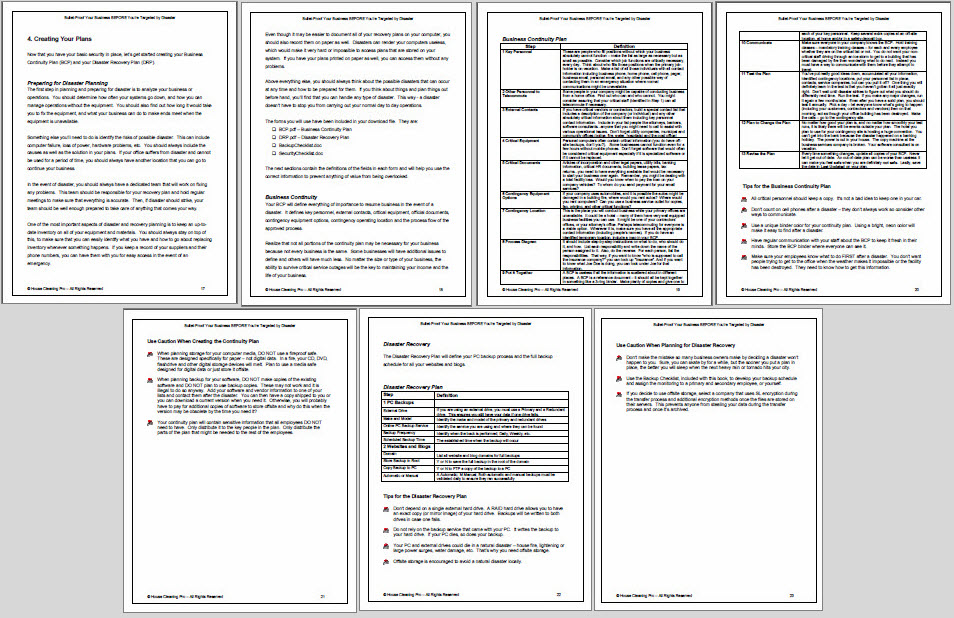 2) Forms – Fill in the Blanks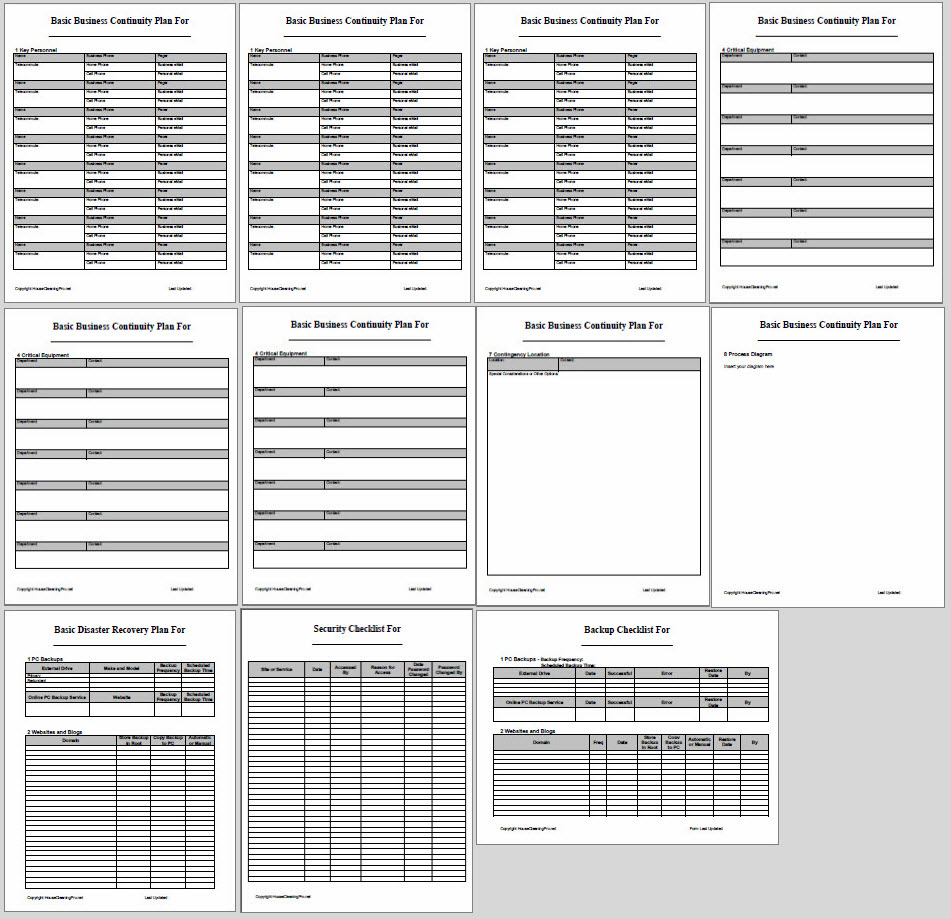 BONUS

Emergency Business Planning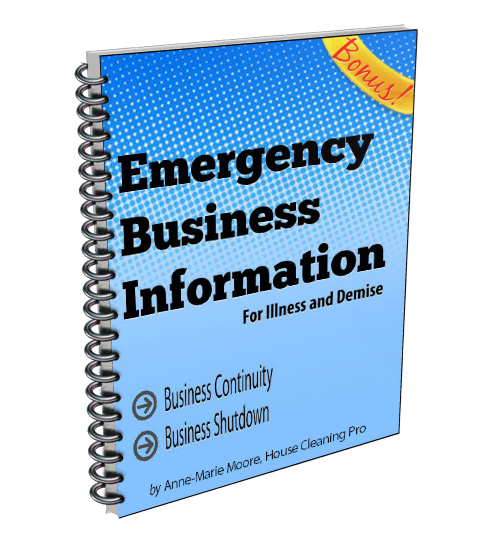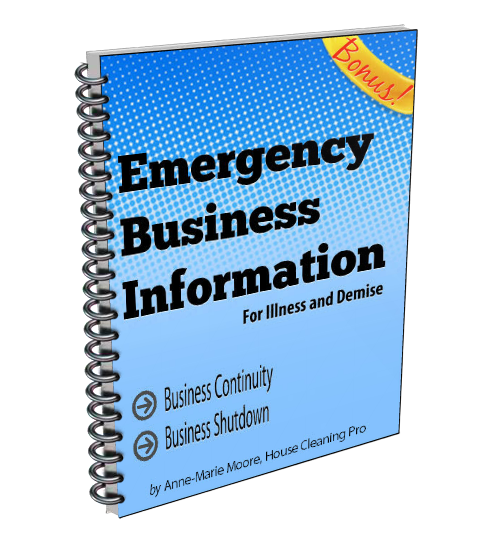 In addition to the Business Continuity and Disaster Recovery planning, I'm giving you an Emergency Business Information planning package so you have everything you need – no matter what size your business is.
Not only do you need to plan for natural and planned disasters… have you stopped to consider what would happen if you became seriously ill – or – an accident resulted in your death?  Who would wrap-up your business?
You have workers and customers to think about.  Someone would need to notify them and close your accounts.  They can't do that if you're not there to tell them what to do!
With my Emergency Business Planning package, you are COMPLETELY covered – no matter what happens to get in the way of your business.
Here's Exactly What You Get:
1) Tutorial Summary
Emergency Summary
Business Information
External Contractors
How to Notify People
Customer List
Money
Webhost Account
Payment Processing/Shopping Cart
Websites Used in the Business
Logins and Passwords
2) Instructions Document

Expanded Report and Step-by-Step Planning Forms
AND

BONUS

Emergency Business Planning
Use coupon code TODAYONLY for a special discount!