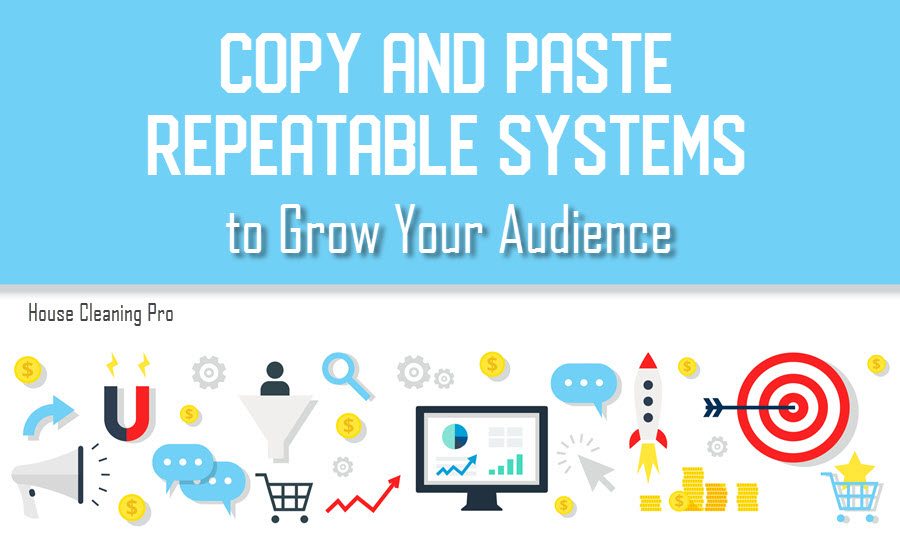 Streamline Your Marketing with Easy-to-Use
Repeatable Systems

You Can

Copy & Paste

to Attract Leads and Convert Them Into Paying Customers

What you need is a constant flow of new leads that you can place on your schedule to grow your business. That doesn't mean you have to spend a bucket load of cash to obtain those leads. There are no-cost and low-cost methods you can use along with a long-term and consistent plan.

There's no magic pill in marketing – nobody can guarantee you'll earn a million dollars and nobody can promise that you'll see results in 14 days. What we can promise is that with a consistent method of getting in front of your audience with the right message, you can convert lookers into buyers.

The key is the power of consistent action with repeatable systems, and that's where the magic really happens.
Introducing…
Marketing-in-a-Box
for Continuous Cash Flow
Imagine knowing exactly what to do every single day to grow your business…
You're busy and marketing your business isn't something you look forward to doing or even have time for. You have to design the marketing messages and that means most of the time you're just staring off into space trying to think of something.
If you've been wasting your time with little or no results…
If you ever wished you had someone to do the work for you…
If you're ready to implement new strategies to grow your reach…
Then the Marketing-in-a-Box is for you! Using simple, done-for-you marketing plans, you'll know where to start and what to do next. You'll build one method at a time and reuse content you've already created for blogging and social media and video.
I've done all the work – all you have to do is fill in the blanks and put the plan in motion.
Here's What You'll Receive in the Marketing-in-a-Box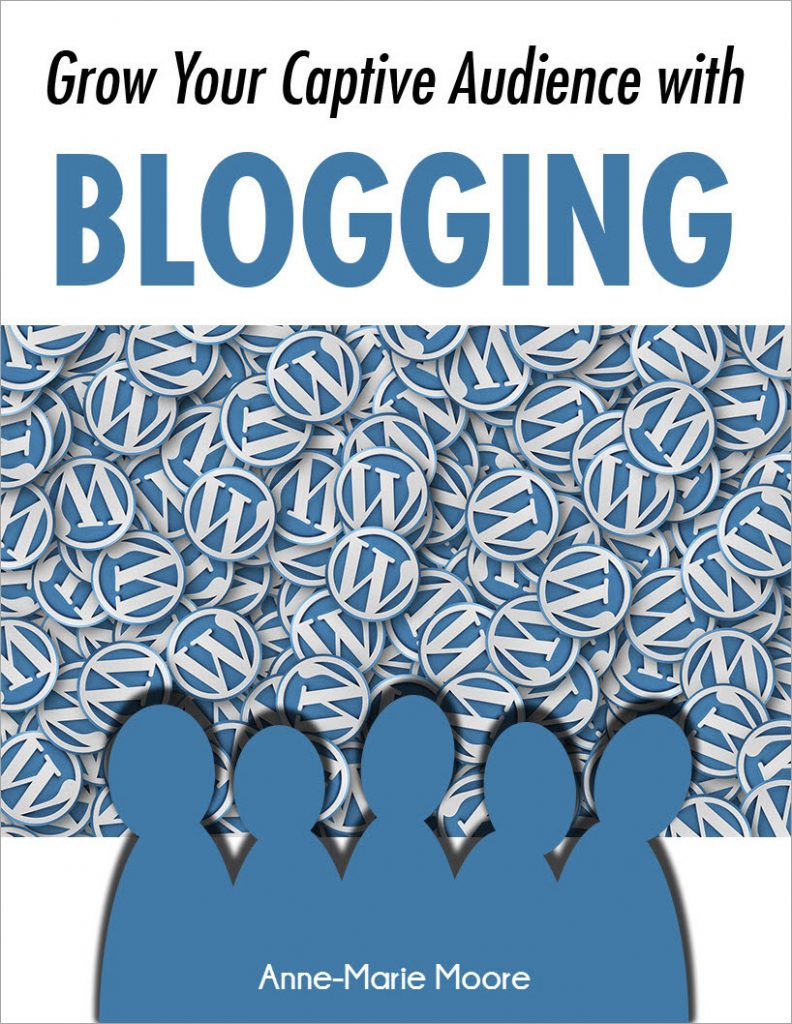 Discover how you can use blogging to grow your audience and provide the information they want to see you as a leader in your community. If you already have a website, it's easy to start blogging by adding information your audience wants. By showing your expertise in all areas of the home, they are more likely to want to do business with you.
Blogging can also increase the traffic to your website by ranking better in the search engines.
You receive:
Fill Your Blog Content Guide – How and where to get people to write blog posts for you
50 Things to Blog About Checklist – Content ideas for your blog
Blogging Checklist – Setup and Manage Your Schedule
Blog Post Planning Template – Easy to use guide to plan out a blog post and the points you want to cover; can be sent to your writer to define the article you want written.
Content Style Checklist – Ensure you include the important points
Fill Your Blog Content Guide – Instructions for using all the forms that are included in this method. You don't have to write your own blog posts. Discover how to hire someone to do them for you.
Weekly Blogging Planner Sheet – Plan out the articles you want written or schedule them when done
Where to Get Content Ideas – You'll never be without blog post ideas with the resources listed here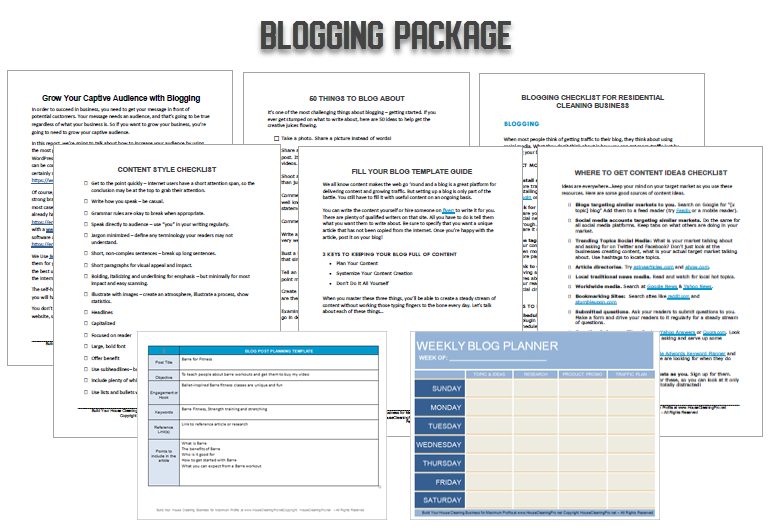 Blank Line
Trouble connecting with your audience and growing your following? Learn how eMail marketing can help you build loyalty and communicate with your audience. Most everyone today is reading their eMail on their mobile devices. All you have to do is send out intriguing subject lines and they'll open your message. Learn how to get them to subscribe by providing value.
You receive:
Insider's Guide to eMail – Tips on keeping your subscribers engaged and the sections of a successful eMail.
eMail Checklist with 1) Re-engagement template, 2) Last eMail template, 3) New customer template, and 4) Promotion template.
17 Additional eMail Templates – Send out promotions, surveys, and other important notices to your subscribers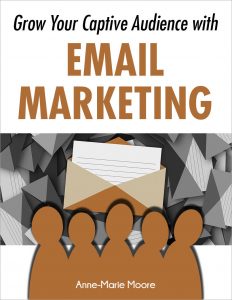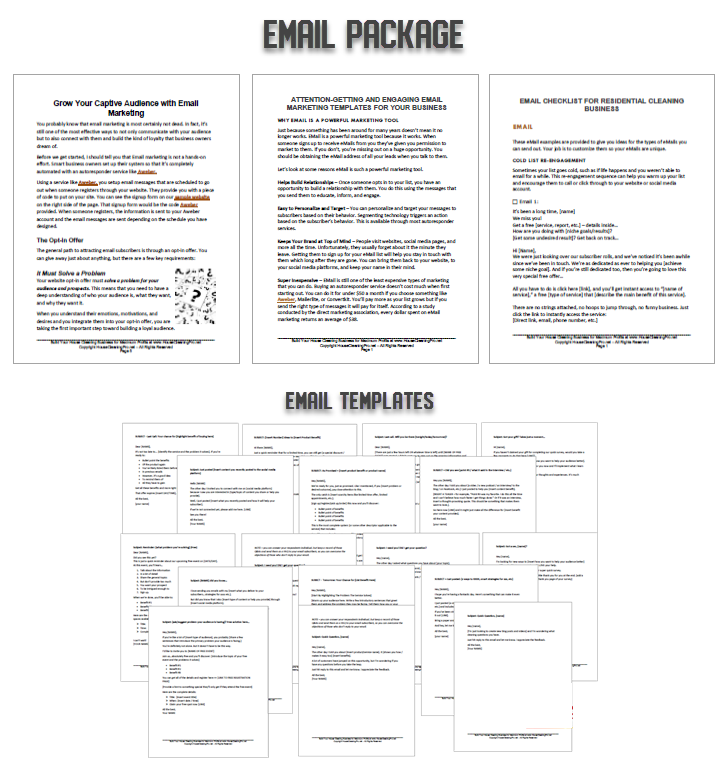 Blank Line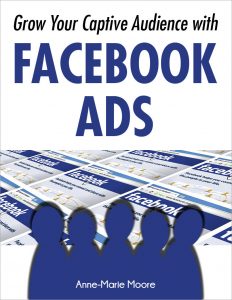 Whether you're launching a new service or option, want to raise awareness about your business, or market existing services, one of the best ways to do that is to use social media and in particular Facebook. With so many hundreds of millions of people using Facebook, you can be sure that your audience is there. Facebook ads can be incredibly targeted toward your specific audience and can start at only $5 a day!
You receive:
Insider's Guide to Facebook Ads – Using the Ads Manager, re-targeting, mistakes to avoid.
Facebook Ads Checklist – Using ads for traffic, choosing your demographic, and creating effective ads.
Facebook Ads Manager Checklist – Checklist for setting up and submitting your ads.
Targeting Your Facebook Ads Worksheet – Use this worksheet to plan your ads
8 Desktop and Mobile Ad – Examples of how to create good ads
25 Ad Templates – In psd and jpg format

Blank Line
Facebook groups provide organic reach and generate more traffic for your business. You have a group of people who have expressed specific interest in your information. When you post new information, they're notified and can choose to view the post and engage. Do you have a hobby or in-home expertise besides cleaning? Create a group in your community and use it to increase your customer base. Discover how other people's groups can be used to your benefit.
You receive:
Grow Your Business with Facebook Groups – Setting a goal, content strategy and making it work for your business.
Facebook Group Checklist – Setting up your group, daily and weekly tasks.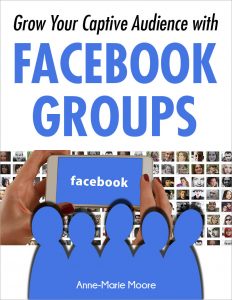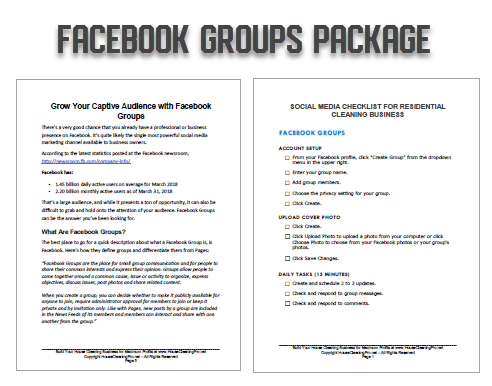 blank line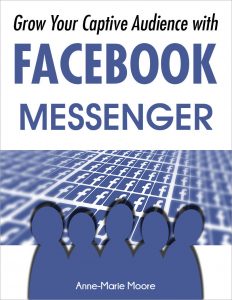 A chat bot works similar to an email autoresponder service, delivering messages automatically and immediately upon being triggered. It can even deliver multiple messages like a real conversation, asking questions that walk users through various processes. This is possible because chat bots recognize keywords, which automatically trigger specific messages. This is especially helpful to business owners who have limited staff and time.
This is a simple way for you to engage your Facebook visitors without having to respond yourself. Let the bots do it for you and you can follow-up later.
You receive:
Insider's Guide to Facebook Messenger – With this guide, you'll know the different ways to use Messenger to create custom experiences and the various bot tools that are available to automate the process.
10 Messenter Bot Templates – Examples of how you can use this for your business. Copy/paste scripts.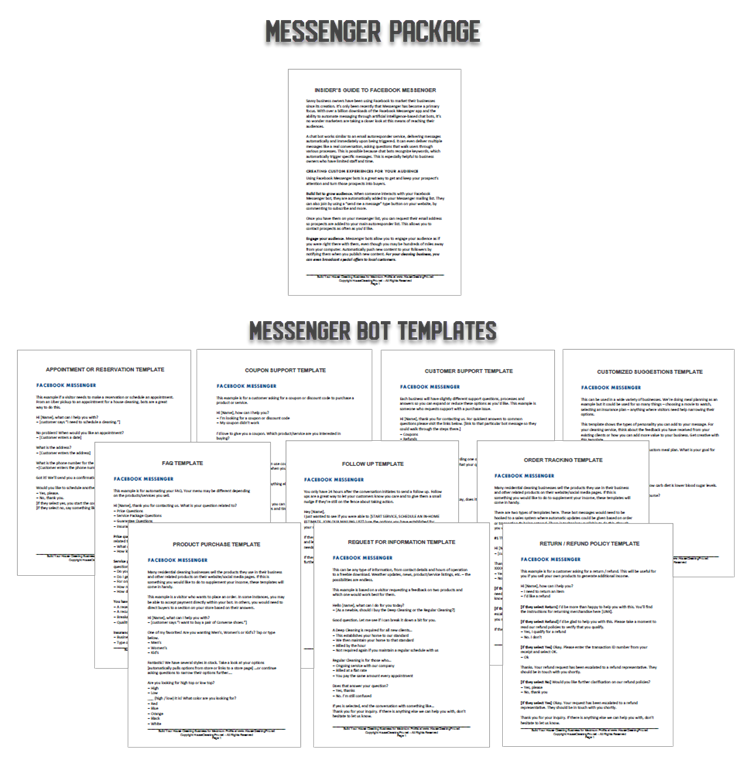 Blank Line
Start a Facebook page for your business. Even if you already have one, you'll discover how to set it up for maximum effectiveness. Discover a few ways you can tweak your Facebook marketing strategies that are affordable and easy to implement.
You receive:
Insider's Guide to Facebook Pages – How to grow your following, link your page to your profile, and other strategies to integrate your content.
Facebook Page Checklist – Page setup and daily tasks.
Facebook Page Description Templates – The description you enter for your page is very important for your business to be found. Includes 5 template examples to help you define an interesting message.
Facebook Page Post Templates – 5 unique post templates; 5 post templates to build your eMail list; 5 post templates to offer your services.
50 Compelling Things to Post About – Ideas to inspire you to create unique and interesting posts.
5 Cover Image Templates – Includes examples along with psd and jpg formats
5 Post Image Templates – Includes examples along with psd and jpg formats
5 Profile Image Templates – Includes examples along with psd and jpg formats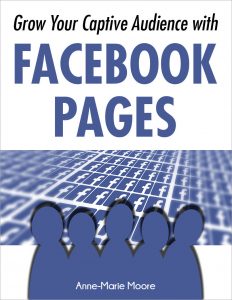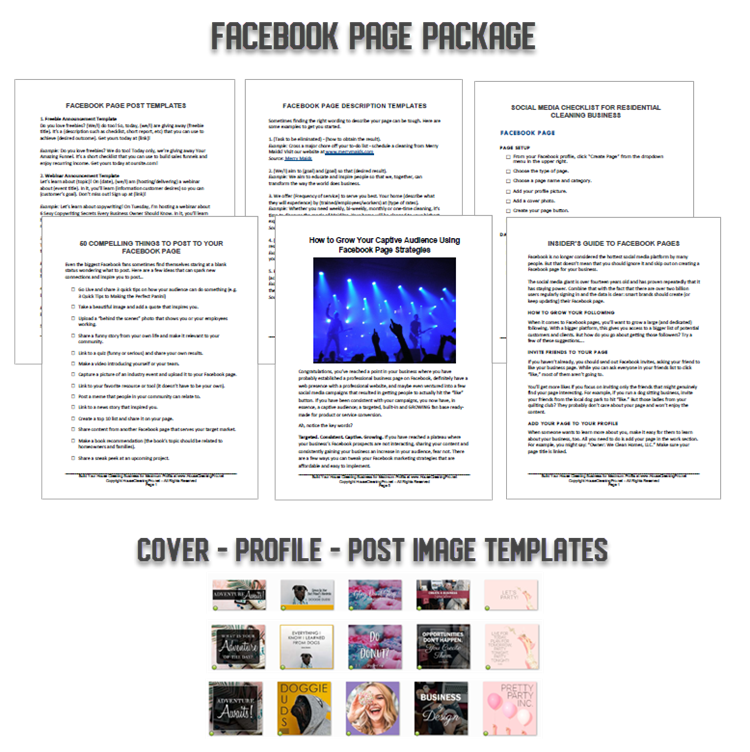 Blank Line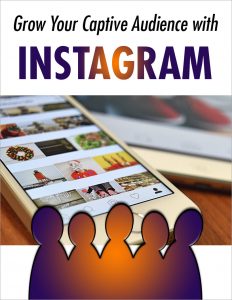 How can you grab attention on Instagram and hold attention so that your end result is a large and captive audience? That's what you're going to discover. If your target audience is on Instagram, then you should be too and you'll succeed with the 5 fundamentals for Instagram success that is included.
You receive:
Insider's Guide to Instagram – How Instagram is different than Facebook and the best practices to build your brand.
Instagram Checklist – Setting up your account, helpful tools, and daily and weekly tasks.
20 Instagram Post Image Templates – Includes blank and example images in psd and jpg formats
10 Instagram Story Image Templates – Includes blank and example images in psd and jpg formats
blank line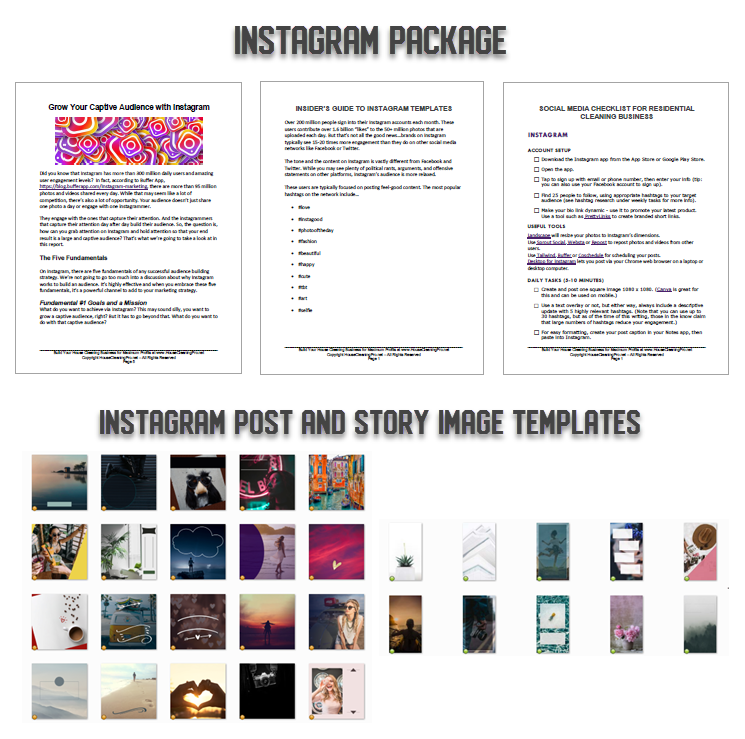 Blank Line
Build authority for your business and grow your following on LinkedIn. This is an excellent resource for networking with other businesses in your city. You'll discover ten steps you can take on LinkedIn to manage the various aspects of your account to grow your audience.
You receive:
Insider's Guide to LinkedIn – How to use specific functions on LinkedIn to generate leads, how to use the search function to identify quality leads and visitors to your site, using groups for your advantage, backing up your account and more.
LinkedIn Checklist – setting up your account for maximum exposure and daily tasks to perform.
LinkedIn Marketing Strategies – 20 strategies for your success with LinkedIn.
LinkedIn Planner – Worksheet to help you plan or update your LinkedIn account.
LinkedIn Success Checklist – 3 areas to concentrate on that will help you grow your following.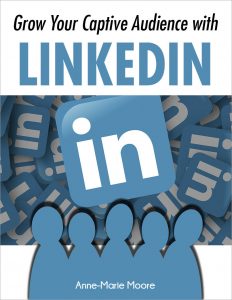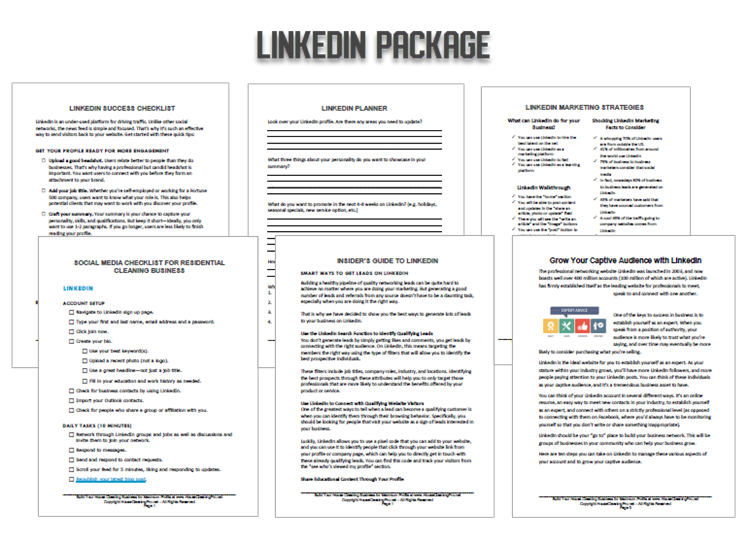 Blank Line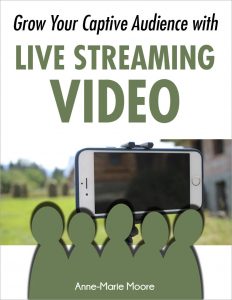 Make powerful connections with Live Streaming Video. You'll understand the benefits and different marketing strategies you can implement. If you have a cell phone, you can generate live streaming video to show your expertise in the field and follow it up with live video from your office.
You receive:
Video Marketing Checklist – Use this checklist to ensure you cover everything you need to do to make this a success. Includes different ways to use video, making money with your videos, basic tools, and strategies.
blank line
blank line
blank line
blank line
blank line
blank line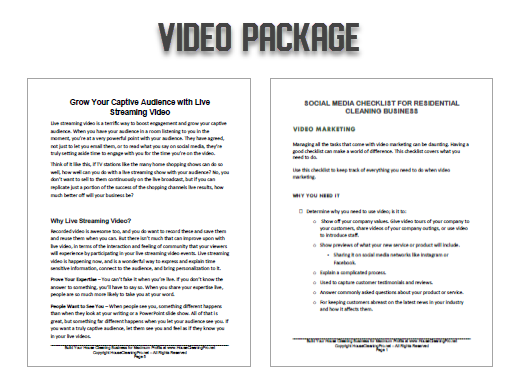 Blank Line
YouTube says that the live streaming viewership has gone up by 80 percent since implementing it and continues to rise. People love live streaming and this is a good place to be to get ranked in the search engines. When someone clicks on your video from a search, you can direct them to your website. You'll setup your channel, tools and software you can use, and examples of how this strategy has been used successfully.
You receive:
Insider's Guide to YouTube – You'll discover how to easily create a video from INSIDE PowerPoint, brand your videos, use a call-to-action to get people to take the next step, and tips on creating your videos.
YouTube Checklist – Setting up your account for business, uploading your profile and background images, title and description tags for the search engines, including links to your other social media accounts, daily and weekly tasks, and ideas for creating engaging videos for your business.
YouTube Live Checklist – Driving traffic with YouTube Live, and important features to use.
YouTube Live Planner – How to plan your channel and the videos you want to create.
13 PowerPoint Slideshow Templates – These templates can be used to create videos and other marketing materials right from inside PowerPoint.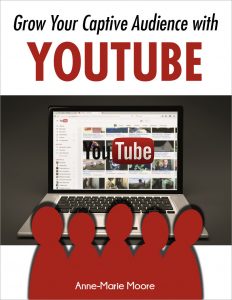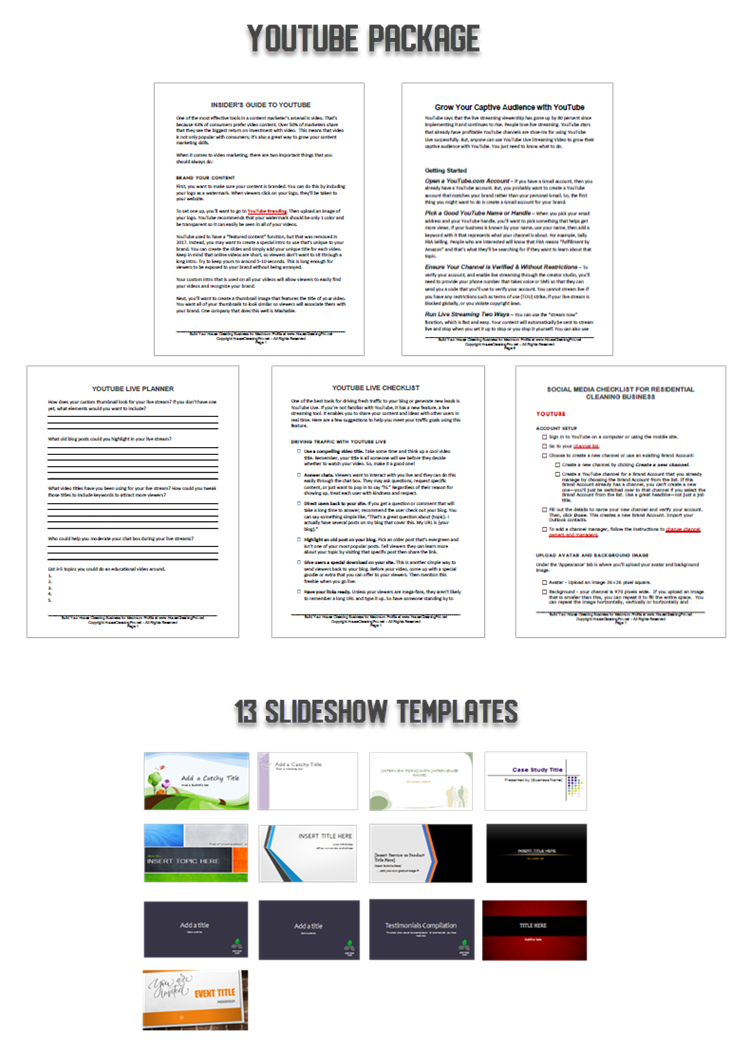 Blank Line
 Maybe you're thinking you don't have time for all these platforms!
I knew that would be one of your first thoughts and here's my answer. You don't have to implement them all at one time, in fact that wouldn't benefit your business at all. You need to select one that fits your audience and start with that.
Once you have your first platform working you can move on to the next one. Now you'll follow the plan to maximize your content and minimize your time so you don't have to create new content for each platform.
This method expands your audience by increasing your reach to increase your leads.
Here's what's included with your purchase:
16 Guides
17 Checklists
3 Planners
145 Templates
1 Worksheet
That's a HUGE total of 182 pieces of content!
blank line
And if that isn't enough, I'm including these BONUS items:
60 Images to customize your templates, blog posts, videos, etc.
20 Blank Social Media Images
29 Social Media Quote Posters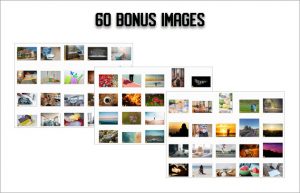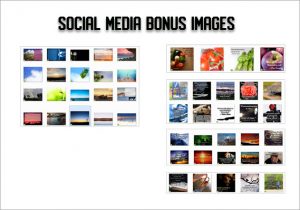 Blank line
Get started growing your audience and converting them into CASH

<< Instant Access >>
Blank line
Do you have questions?
[WPSM_AC id=7124]
blank line
SAVE TIME and MONEY!
You could do this all on your own. There's plenty of information you can scour through on the Internet, but how long will it take you to do that? Do you have the time? That's the main reason to invest in this now… to SAVE TIME!
Not much thinking involved with this system. You don't have to stare at a blank screen wondering what you're going to post to your social media account each day. Just follow the templates and checklists!
And you don't have to hire someone to create graphics for you, or create videos – there's plenty here for you to use while you grow your business… SAVE MONEY!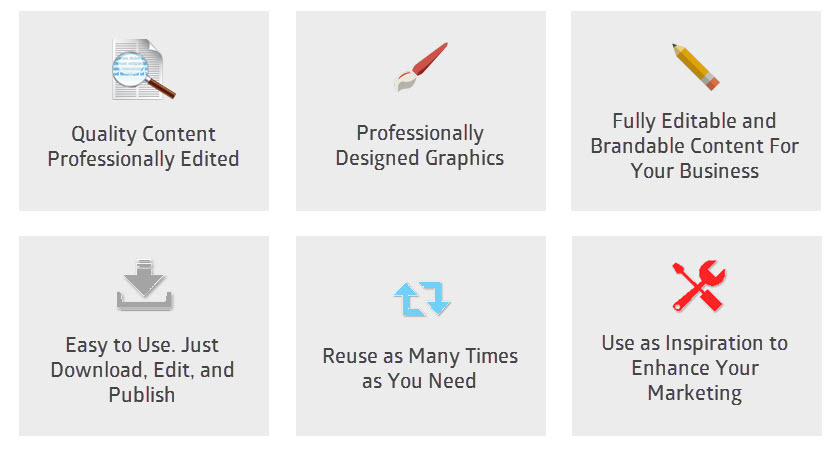 b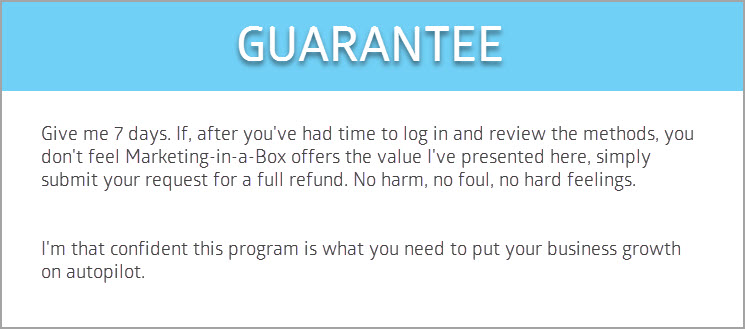 blank line
PS: You are fully protected by my 100% Satisfaction-Guarantee. If this program doesn't match up to everything I've said here, simply contact us at the Support Desk within 7 days of purchase, and I'll send you a full refund.blank line

<< Instant Access >>