House Cleaning Business Flyers for the Holidays
Holiday Business and Networking Flyers
Who They're For:  Independent cleaners and residential cleaning businesses
What They Do:  Solicit new prospects as flyers or door hangers
Why You Need Them:  To network in your community
What's Included with Your Purchase
PNG format
300 dpi Print-ready A5 – Super easy to customize
Each flyer presents a problem/issue customers have and presents a solution
You receive 2 images for editing – the text formatted flyer and a blank flyer
Customization services INCLUDED with your purchase or do it yourself
Add the flyer image to a document page and print the flyers yourself or take the print-ready image to a copy/printer store and have them mass produced
Step-by-Step Marketing and editing instructions
CLICK HERE to receive a FREE Loyalty Card as a sample of our flyers
Residential Cleaning Service Flyers
CLICK HERE to view the Holiday Gallery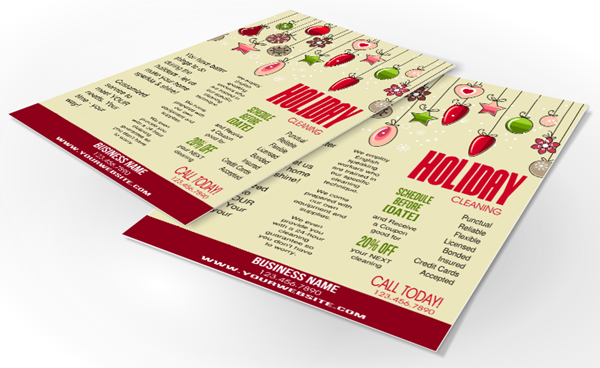 #1 Holiday Ornaments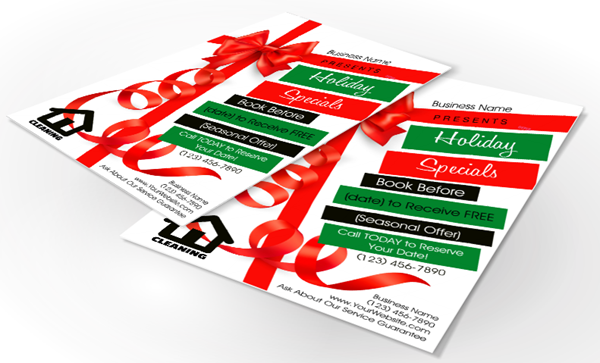 #2 Holiday Ribbon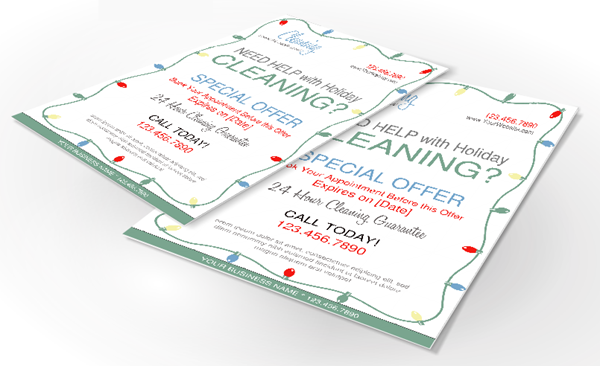 #3 Christmas Lights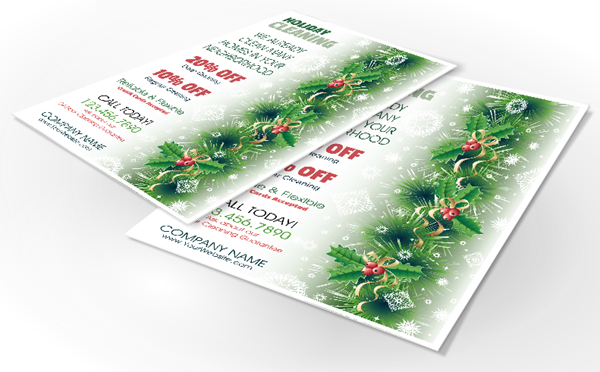 #4 Christmas Tree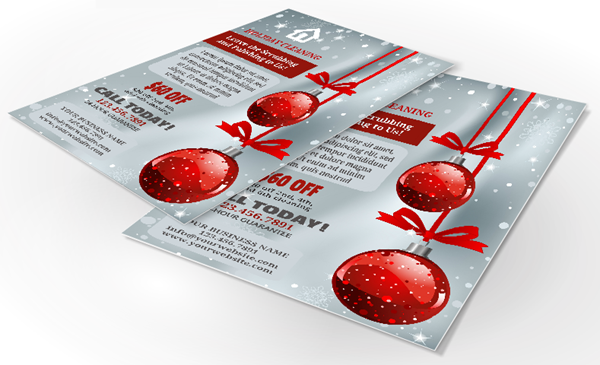 #5 Christmas Ball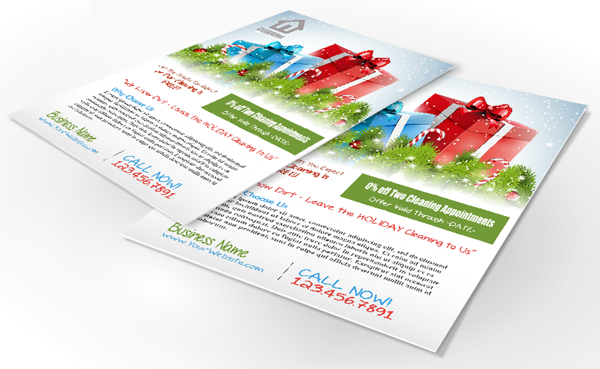 #6 Holiday Boxes
These forms are completely customizable for your business and include instructions for use
Specify one or more flyers on the order page when you click "Buy Now"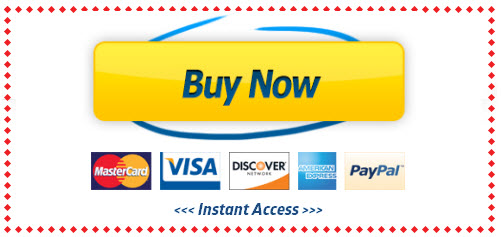 Why Use Flyers
Flyers for cleaning services are an effective way for local service businesses to target new customers in specific areas of town. Unfortunately, people won't read your flyer if you don't give them a reason. That's why each of our flyers have a headline with an issue people have in their life. Different issues speak to different people. That's why you must know your target market and the issues they have.
When you follow the marketing methods I have included with your purchase, you're guaranteed to get results!
Unique Flyers
These are unique cleaning service flyers you will not find anywhere else.  The last thing you want to do is use marketing materials other cleaners in your city are using.
Invest in sets of flyers to build your brand at a discount or just purchase individual flyers.  You may find one flyer that generates more calls for your business than others.  You just need to test them with your advertising message.
All the A5 flyers come with standard headings, offers, and a list of important service features. Each flyer presents a problem/issue customers have and presents a solution. All of these can be edited by you using standard image editing software or a DIY website like PicMonkey. Customization services is INCLUDED with your purchase. Turnaround time is usually 24 hours, depending on current workload. Logos shown are for preview only and must be replaced with your unique logo or text.
What's Included with Your Purchase
PNG format
300 dpi Print-ready A5 – Super easy to customize
Each flyer presents a problem/issue customers have and presents a solution
You receive 2 images for editing – the text formatted flyer and a blank flyer
Customization services INCLUDED with your purchase
Add the flyer image to a document page and print the flyers yourself or take the print-ready image to a copy/printer store and have them mass produced
Step-by-Step Marketing and editing instructions
CLICK HERE to receive a FREE Loyalty Card as a sample of our flyers
CLICK HERE to view the Holiday Gallery