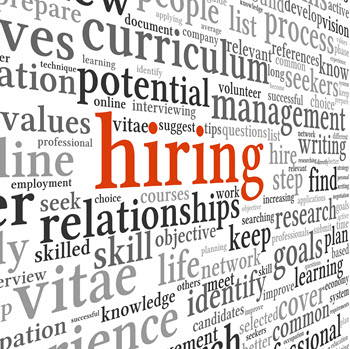 Hiring your first employee for your cleaning business should be a positive and exciting venture.
You have successfully taken your business from the initial start-up to the point of having enough jobs or excess jobs, leading to your decision to hire workers.
Before you hire, make sure your business is ready for workers. This means having documented cleaning procedures your employees can follow. This will ensure the quality of work to the standards your customers have come to expect.
This process shouldn't be taken lightly as the future of your business depends on you hiring the right person.
1) Have a Formal Process
Hiring workers for your small business is a process and one you will most likely be duplicating as your business grows. The process consists of defining the position, placing help wanted ads, scheduling interviews, reviewing applications, and making the offer. Putting this process together before you place your ads will make it easier for you to track and follow-up with applicants. This also ensures you have the same process for everyone you interview.

2) Hiring Friends and Family
The first rule of business is never hire friends and family. You may think this doesn't apply to you, but you need to review the pros and cons of this decision.
You can certainly save time and money by waiving the reference and background checks, but your long-term goals for your business should be considered. Friends and family are usually eager to help out, but they rarely are in it for the long haul.  Many times they have a personal agenda or assume special privileges and take advantage of you. This is when you are left in the lurch or have to make the painful decision to let them go, risking your personal relationship.
It's rarely a good idea to put your business under the strain of hiring friends and family and the uncomfortable situations that may arise. You have enough stress in running your business and can eliminate future issues by hiring from the outside.
3) Complete Background and Reference Checks
Providing in-home services means your workers will have access to your clients' personal information and possessions. The survival of your business will rely on you hiring honest and ethical people. The only way you can do this is by completing a background check and reviewing the information for any criminal acts.
Once an applicant has passed this requirement, you will need to follow-up on their references and work history. Employers are very careful with the information they share today, but you will be able to ascertain if the applicant is considered for re-hire. If they are not, you should proceed with caution.
4) Avoid Talking too Much
Talking about your business at the start of an interview gives away too much information the applicant can use to tailor answers to meet your criteria. Instead, ask your questions and get the applicant talking; the more they talk, the more you will learn about them and how they work. Once you have completed the interview, you can talk about your business and the types of clients you service.

5) Avoid Yes/No Questions
These types of questions are leading and tend to illicit the answers you want to hear. Instead, ask open-ended questions that require the applicant to give details and more than a one-word answer.
Instead of asking the applicant if they mind working overtime, you could ask them to tell you about the last time they worked extra hours. From their answer, you should be able to deduce if they mind working overtime.
6) Personality Over Work Ethic
Professional cleaning requires more than just the ability to get along with your clients. In fact, with so many people working today, you may be cleaning more houses without the client being home at the time of the appointment.
Don't be swayed by an applicant that is more personality than work ethic. You will need to make sure that your employee has the same work ethic as you and can service all the appointments you schedule for a day. Include appropriate questions to weed out the applicants that are only looking for a paycheck and will not be able to complete the jobs as you require.
7) Cultural Fit
Your first employee should be someone who wants to grow with your business. Make sure you hire someone who can fit into your company and work well with your customers. For instance, if you service mostly seniors who are home during the appointment, your worker should be someone who is caring and has the ability to work around their needs.
8) Orientation and Training
Once you hire your first worker, they will need to be trained on your policies and procedures. Having an employee manual ready to provide this information will be invaluable to you as it establishes the "rules" of employment and the procedures to follow when cleaning client homes. You should also provide hands-on training before scheduling your new employee on appointments.
CLICK HERE for the Employee Handbook Bundle – Ready for you to customize for your business
Find the best employee for your small business will take time, so plan in advance. In this economy, there are plenty of people looking for a job, but only a small percentage of them will want to do the work you need done. Get creative with your interview questions to help you discover the applicant's strengths and weaknesses before you hire.
Need help getting started? I created three special reports to help you prepare your business before you hire, and select and manage the right workers. Click here to review what I put together to see if any of them can assist you.
If your interested in a total system to transform your business, everything you need to get organized and start hiring is included in the Business-in-a-Box system. Save 15% when you order with coupon code BIB-Employees.
What's the one interview question you use that provides the most insight? Leave a comment and share.
Join us in the House Cleaning Business Mastermind on Facebook for more tips, tricks & secrets to success!

To Read Next: