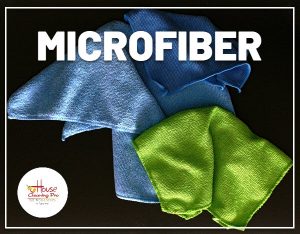 Are you considering transitioning to microfiber for dusting your client homes? There are a few things to consider before you get started.
Dry dusting a house correctly is very important to homeowners. Unfortunately, most house cleaners treat this as an after thought, probably because they do it after cleaning the bathrooms and kitchen. Those areas of the home require scrubbing, so it's not unusual to be a little fatigued by the time you get to the rest of the house.
Dusting a house can be tricky if you don't know the ins and outs of professional cleaning. In my business I trained my workers to dust all sides of the furniture – not just the flat surfaces. This is very important because if you don't have full sunlight at the time you perform the dusting you can't see the dust. Imagine your client sitting in the room at a different time of day when the sun has shifted and old dust shimmers on the side of the furniture where you didn't dust. That's when they decide you didn't do your job correctly and start inspecting to see what else you missed.
Look What Microfiber Can Do Using Only Water!
Blank Line
If you're using a dusting spray you know how reliable it is to remove the dust and leave a nice shine. Unfortunately, those dusting sprays contain chemicals that affect many people. You could make your own natural dusting spray or you could use microfiber cloths.
How to Use Microfiber for Dusting
High-quality split microfiber is positively charged which makes it attract dust like a magnet and then holds the dust between the fibers. When damp, the microfiber easily removes dirt, smudges, grease, and stains.
A common issue for most people using their first microfiber cloth is streaking, which occurs when your cloth is too damp. Another issue is leaving behind little dust clumps – you can avoid this by investing in quality microfiber.
First, use a cloth that is at least 14″ x 14″ which is large enough to fold into a square giving you eight sides to use.
Here's how I prepare my cloth before dusting to get out as much moisture as I can:
Lay a larger terry towel on a flat surface.
Lay your microfiber cloth over the terry towel.
Start rolling the two towels, like a sausage.
Press out all the moisture.
Unroll, fold your microfiber cloth, you're ready to dust!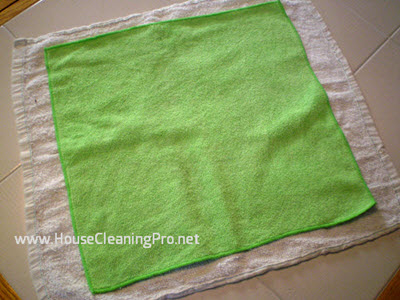 Invest in High-Quality Microfiber
Don't waste your money on inferior microfiber. You'll only be frustrated in the end because they'll leave behind streaked surfaces and dust clumps.
Invest the the best – split microfiber which is soft and highly magnetized to leave behind clean, streak-free surfaces.
Using my link means I make a small commission if you make a purchase on Amazon. I only make recommendations on products I have thoroughly reviewed or use myself.