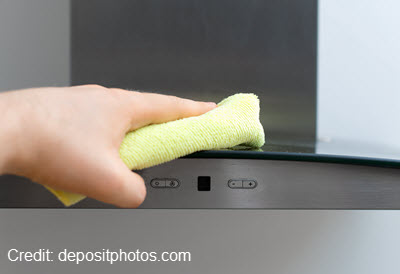 In building and running my residential cleaning business, one of the most difficult concepts to enforce was disinfecting.
Whether the people you hire are experienced cleaners or newbies, most house cleaners don't give proper disinfecting procedures the respect they deserve.
Many experienced cleaners were aware of the importance of disinfecting, but had acquired a lot of bad habits over time.  Newbies cleaning their own homes, were under the impression that just spraying and wiping a disinfectant was all they needed to do.  Nothing could be further from the truth.
Each chemical you use to disinfect – and this includes green, natural or toxic – has its own required dwell time to kill bacteria.  The minimal dwell time is ten minutes, but you really should go by the product recommendations.  If you're mixing your own products then it's your responsibility to do the proper research to determine what the dwell time must be to destroy 99.9% of the contact bacteria.
When purchasing your disinfectant, be sure to understand what's on the product label and follow the instructions for proper use.
Killing Bacteria
In order for a disinfectant to work, the surface to be sanitized must first be cleaned to remove all organic material.  In other words, you can't just spray the dirt with your disinfectant and then wipe it clean.  Consider this a 2-step process, with the actual process to kill the bacteria to be completed last.
When it comes to disinfecting, we usually think of the bathroom and the kitchen, which use different types of disinfectant.  In the kitchen, you must ensure that you are using a food-safe product.  So we're usually referring to toilets, showers, countertops, sinks, microwaves and ovens.  But there are other forgotten items that need to be disinfected, such as HTOs – highly touched objects:
Toilet handle
Door knobs
Cutting boards
Remote controls
Telephones
Keyboards
Light switches
Other fixtures
This is when it's handy to have a disinfectant that doesn't need to be rinsed.  All you have to do it spray and wipe, which includes wiping with a damp towel utilizing the disinfectant.
Are you using homemade products in your cleaning business? I found an excellent article on the science behind home disinfecting products titled, "Hydrogen Peroxide + Vinegar = A Disinfecting Duo?" This will provide you with more detailed information when selecting cleaning products for your business.
[bannerbox id=21]
Cross-Contamination
Poorly trained workers will quickly cross-contaminate everything in the room.  This happens when they are not trained in proper disinfecting techniques or they lack an understanding of why it's important to kill bacteria.  For this reason, I preferred to use terry towels which could be folded into a square.  When used properly, this towel can effectively be used to disinfect and dry when the towel is re-folded as the cleaning is completed.
The proper folding of towels in itself does not prevent cross-contamination.  For instance, you never want to use the towel you used to clean the toilet on the countertop.  This is where your overall cleaning procedures come into play because you can use your countertop towel to finish cleaning the toilet.
Conclusion
Cleaning residential homes professionally requires a little scientific knowledge in addition to best cleaning practices.  Be ready to take advantage of this when promoting your business to stand out from your competition!
For proper techniques in cleaning everything in residential homes, I recommend my Professional Tips & Tricks on how to become an independent house cleaner. My Business-in-a-Box to start a house cleaning business includes all the cleaning tips and everything else you need to have workers doing the cleaning for you. If all you need are cleaning procedures to help you in your business, click here.